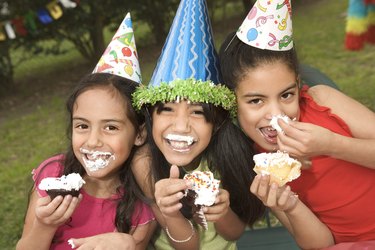 Once your daughter turns 11, she and her friends will most likely steer the direction of the party. Instead of renting space, rock climbing or having a pizza sleepover, together plan something extraordinary. Give her more control of the details. Together pick a theme, tableware, favors, menu and several game ideas. Once the party starts, the girls will take off with their own variation on the celebration.
Camp Out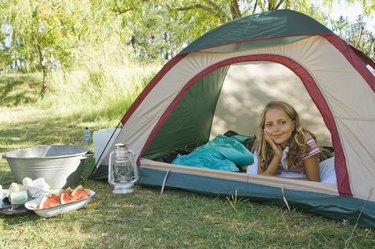 Celebrate with a camp out birthday. Name the camp and construct a sign to tack onto the tent. Ideas include Deer Pass Lodge, Grizzly Bear Cabin or Snowy Mountain Lodge. Create tent-themed invitations. Erect a tent in the backyard. Around its interior, string twinkling lights. Create a signpost with "Don't Feed the Bears," "Outhouse" with an arrow pointing to the house and "Fishing Hole" with an arrow in the opposite direction. Put logs in a camp circle with chairs around them. Plan a camp menu, including "Campfire Pies" or "Campfire Pizza" (see Resources). Try banana boats for dessert instead of s'mores. Prepare a tray of fresh fruit, chips and camp-themed cupcakes. Play flashlight tag and blind man's bluff. For party favors, purchase mini flashlights, glow sticks, compasses and bandanas.
Music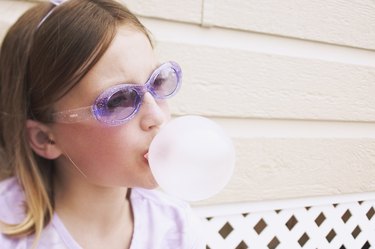 Organize a sock hop. With black construction paper, craft 45's (record) invitations. Arrange for guests to wear skirts or rolled-up jeans, cardigans and ankle socks. Craft felt poodles to tape onto guests' skirts. Select music from the 50s and bop and twist to "Splish-Splash" and "Rock Around the Clock." Construct or purchase a jukebox cutout. Place it in front of the CD player, allowing access. Look for "sock hop" tableware. Hand out bazooka gum, penny candy, sheer scarves, cat sunglasses and lip gloss. Play song charades. Have dance contests or teach them 50s dance moves. Serve up diner food. Place a menu board listing what's cooking. Prepare rootbeer floats, veggie burgers or hamburgers, and baskets of fries and onion rings. Decorate a cake to look like a 45 record or a drive-in diner.
Winter Wonderland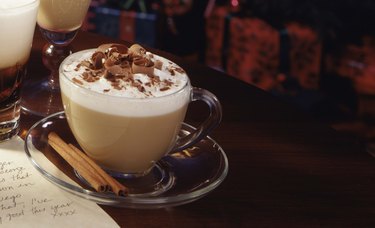 If you live in a warm climate, throw a winter wonderland birthday bash. Start with a "winter wonderland" room setter for atmosphere. Light cinnamon, bayberry or gingerbread candles. Choose silver, white and icy blue for decorations with snowflakes as the theme. Drape the room with snowflake gossamer and string twinkling lights behind it. Look for metallic snowflakes and plastic icicles to hang on the windows. Turn on the air conditioner to make it chilly. Offer sweaters to those who need them. Purchase white Styrofoam balls for snowball fights and tag. Play freeze dance. Serve hot cocoa with a help-yourself bar. Include marshmallows, cinnamon and peppermint along with warm chocolate chip cookies. Rent a chocolate fountain and use white chocolate with dipping strawberries. Fill silver cellophane bags with peppermints, gourmet hot chocolate, fingerless gloves and Chapstick. For decadence, hire an ice company to blow snow into your yard!