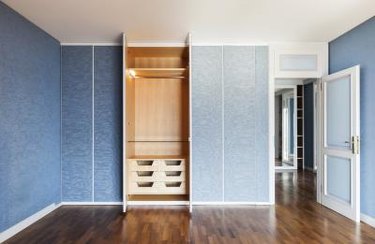 Closet doors can stick out in a room and interrupt the clean lines of modern design. A wall of closet doors can dominate a small bedroom or hallway. Decorate the closet doors for a modern flair that creates a cohesive contemporary theme in the room. Turn your closet doors into a focal point instead of an eyesore.
Sliding Closet Doors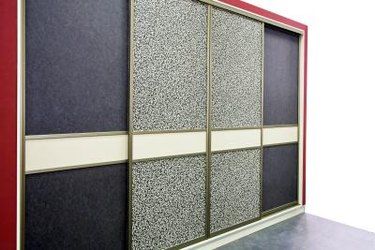 There are special considerations when updating sliding closet doors. The door treatment must be thin enough so the doors can still glide past each other. Grass mats or bamboo blinds add a natural feel to modern design. Frame the mats out with thin molding to hold it in place. The mats can form squares on the door or large rectangles. If you want a modern spa look, consider upholstering your closet doors with a simple linen or burlap fabric. Use buttons for a faux tufted look.
Folding Closet Doors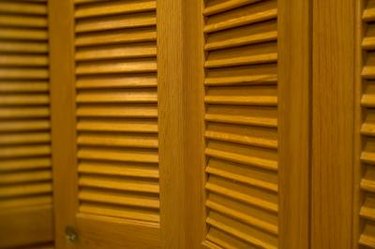 Folding doors allow you to decorate each panel. Use modern materials to cover dated closet doors. This can be anything from aluminum flashing to wallpaper. Aluminum flashing is less expensive than stainless steel but lends an industrial feeling to the room. Use the modern materials on the inset of the door. Plexiglass will give you the feeling of a contemporary shoji screen. Paint the frame of the door for a fresh look. Change out the knobs on the closet doors to more modern stainless or brushed-nickel door pulls.
Mirrored Closet Doors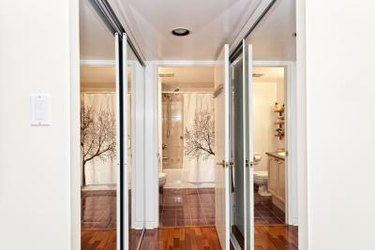 Mirrored closet doors can make your room feel outdated. You might not want to get new doors because large mirrors help you coordinate outfits or reflect light throughout the space. Frame out the closet doors using mirror mastic, rosettes and lattice. This gives the mirrored doors the appearance of a large decorative mirror. Your guests might not even know it's a closet.
Paint and Stain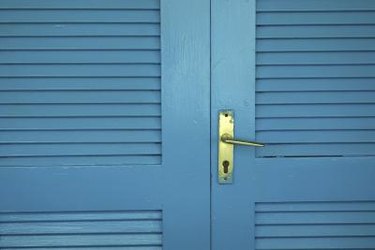 Paint is an inexpensive way to transform closet doors. The traditional trim and closet-door paint color is white. Modern design calls for more dramatic blacks and chocolate browns that will help make the closet door a feature in the room. If you want the doors to disappear, paint them the same color as the walls.
Paint can also add interest to a closet door. To add the appearance of depth to a flat-panel door, tape off a large border around each door and paint the area a darker color. Use your closet door as a canvas. Paint a vivid modern-art piece with a graphic stripe or splashes of paint.
Use stain on wood doors for a closet makeover. Modern stain colors are dark and rich such as black or mahogany.