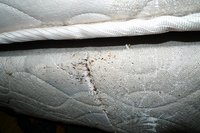 Bed bugs are annoying pests that feed upon the blood of humans and animals. They bite while you are sleeping so you may not even know you have an infestation. Once bed bugs are in your home, they multiply rapidly and are very hard to get rid of. The bugs hide during the day so they are difficult to spot. They dig into folds or hide behind picture frames. You may discover their presence because of the brown and rust colored stains they leave behind on your mattress or walls.
Home
Clean your house thoroughly if you discover bed bugs. Focus on your bedroom since the bugs hide close to their food source. Wipe down walls and furniture with a soap and water solution. Check places where bugs can hide. Clean those areas completely and repair them if indicated to keep the bed bugs from returning. Look for bed bugs along baseboards, behind wall hangings, in electrical outlets, under wallpaper or cracked paint, in room corners and window frames. Clean under lamps, clocks, inside smoke detectors, inside backpacks, purses, toys and books.
Remove cushions from upholstered furniture and vacuum them. Pay close attention to the seams where bed bugs can hide. Mattresses that show a heavy infestation should be discarded. Otherwise, cover your mattress and box springs in vinyl covers. Vacuum the carpet thoroughly then follow with steam cleaning. Remove all furniture in the room beforehand so no spots are missed on the carpet. If bed bugs can still be seen after steam cleaning, pull up the carpet and dispose of it.
Clothing
Wash all clothing and bed linens. Bed bugs love to hide in clothing so all of your drawers and closets must be emptied. Clothes should be stacked flat to shake out bugs. Separate washables from nonwashables and seal them in plastic bags.
Washable clothing and linens should be washed in hot water and dried on a hot dryer setting since heat kills bed bugs. Nonwashable clothing, or clothing that cannot be washed in hot water, should be left sealed in plastic bags and placed in the hot sun for 24 hours or put in the freezer for 24 hours to kill the bed bugs.
Hiding Places
Keep your home and bedroom clutter free to prevent bed bugs from multiplying. It may be impossible to kill every bed bug in your home when cleaning out an infestation so take precautions to keep them from breeding unchecked by limiting their available hiding places. Replace your carpet with tile, use wood instead of upholstered furniture, cover your mattress in vinyl and keep your bedroom tidy.