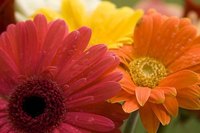 Gerbera daisies are popular potted plants for gifts and planted in the ground to add a bright and colorful addition to any garden. Gerberas are available in vibrant shades of orange, red and yellow, as well as white and pink. With proper care gerberas will give 4 to 6 weeks of abundant flowers. In warm climates gerberas will grow and flower for about 3 years. In colder climates they need to be replanted yearly.
Planting
Plant gerbera daisies in a well drained location with plenty of sunlight. In hot dry climates, a little shade during the hottest part of the day is desirable to prevent sunburn. In most locations full sun is desirable. Plant outdoors beginning in April or when all danger of frost is past. Gerberas can be grown from seeds or planted from potted plants. Additional plants can be propagated from cuttings or by dividing the root ball.
Water
Gerberas like moderately moist soil. They should not be allowed to stand in wet soil. It is best to water thoroughly early in the morning whenever the surface of the soil has begun to dry out. Using an irrigation system on a timer or a self-watering probe will ensure that your daisies will have enough water without drying out.
Pruning
Prune away dead flower heads as they appear. Allowing the dead flowers to stay on the plant discourages the growth of new flowers.