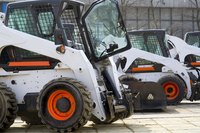 The skid steer is a small, maneuverable front-end loader first developed in 1957. It gets its name because it is steered by powering the wheels on one side while breaking on the other, so the vehicle can actually skid in a pivot around its own axis. The skid steer's high maneuverability has made it a popular choice for everything from construction work to manure scooping. A comparison of the specifications of top skid steer models illustrates the range of options for these loaders.
Bobcat S630 Skid Steer Loader
The Bobcat was among the first skid steers ever produced, and the name is still sometimes used as a generic term for all skid steers. The S630 is one of Bobcat's new M Series, and has a radial lift path that allows it to dump or unload materials over obstacles like walls or truck gates. The S630 is equipped with a turbocharged 74.3 hp diesel engine. It has an SAE-rated operating capacity of 2,180 lbs., and a total operating weight of 7,707 lbs. It is capable of traveling at 7.1 mph and has a 27.3-gallon fuel tank. When equipped with a standard bucket, the S360 measures 136.8 inches long by 74 inches wide, and is 81.3 inches high. It has a wheelbase of 45.3 inches and achieves a turning radius of a mere 83.4 inches.
John Deere 313 Radial Skid Steer
The 313 is one of the smallest skid steer loaders on the market. It sports a turbocharged 45 hp diesel engine and has an SAE-rated operating capacity of 1,260 lbs. But the 313 packs all of this into a frame that measures just 124 inches long by 59 inches wide with bucket, and with a standard operating width of 5,150 lbs. Although Deere does not publish a turning radius for the 313, it has a wheelbase of just 38 inches.
New Holland L190 Skid Steer Loader
The New Holland L190 is an example of how large a skid steer can be. It has a four-cylinder, 74 hp diesel engine and is capable of lifting more than a ton -- 2,800 lbs., to be precise. Its total operating weight is a hefty 7,755 lbs., and it measures 145.7 inches long and 78 inches wide with bucket. It has a wheelbase of 51.5 inches, and is capable of speeds up to 7 mph.