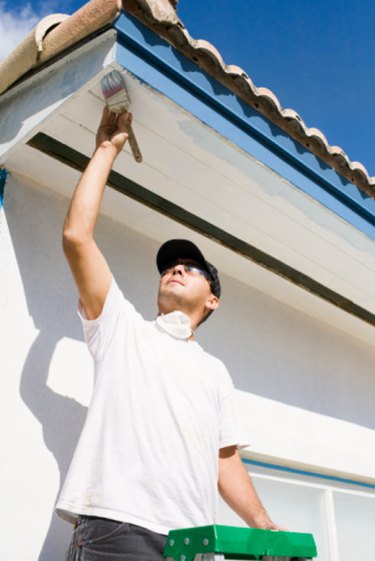 Sherwin-Williams has been making paint and paint products since 1866. They have a wide variety of paint colors to choose from. Painting the exterior of your house is made easier with Sherwin-Williams' website, COLOR system and "Simply Color" brochure, no matter what type of home you have.
Arts & Crafts
This style was founded in the 1880s and was influenced by the Transcendentalist movement, which encouraged a return to nature. This style uses simple forms and plenty of natural materials such as exposed wood and stone. Bungalows, pueblos, mission-style homes and others usually have an Arts & Crafts feel. The best colors for this type of house are natural earth tones.
Colonial
The Colonial style is usually found with two-story homes and has columns, but the style may be applied anywhere. Strong touches of red, gentle blues and soft whites are terrific colors to choose when reflecting a Colonial style.
French Country
The French Country style is bold without being too forthcoming. It's not uncommon to mix matching prints in the same room, especially with furniture. The colors most associated with this style are buttery golds and yellows, seafoam greens, and gentle blues, purples and pinks. Bright red doors are especially popular with this style. White wooden furniture is common. Yellow is the most common French Country color, along with white and almost always a red door.
Ranch
Ranch styles become popular in the 1950s and '60s in America in what was known as tract housing. The Ranch style includes a split-level or one-story home with an open floor plan. Neutral colors such as beige, tan, eggshell or ecru are common colors indoors. Ranch-style homes have the most open style when it comes to what the outside is painted--really any color that isn't jarring to the eye, such as purple or bright green, is fine. Trim is always black or white.
Spanish Revival
This style originated in the early 20th century on the southern West and East coasts. The architecture reflects the Spanish influences of those regions. Most exteriors of these homes are clay or stucco, so it's best to stick to off-white and sandy colors. The interior may range from jewel tones such as a rich ruby, deep sapphire or exotic jade to earth tones that reflect the area and the nearby sea.
Victorian
Victorian-style homes have a surprising amount of leeway when it comes to colors. There are several subsets of this style (Second Empire, Italianate, Queen Anne), but all reflect the conservative values of the time. During this period, all entertainment was home-based, and being spacious and inviting was key. A deep, dark purple wouldn't be out of place on the exterior of a Victorian home, because the people of that time liked rich, strong colors. Strong earth and jewel tones, such as burnt red, azure blue and muddy browns, are also welcome, as are fairly stark whites, especially in the kitchen. Contrasting trims on the exterior are also reflective of this style.