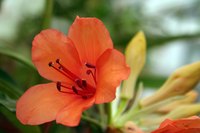 When encountered with the terms "endangered" and "extinct," you usually imagine a graceful waterbird covered in oil or the mighty, long-gone dinosaurs of the Jurassic period. However, the endangerment of species extends to the plant world as well, threatening the existence of entire families of exotic and beautiful plant life. Ranging from common flowers that grow on a single island to a plant in Chile that is literally one-of-a-kind, rarer plants are feeling the pressure of extinction looming. And some have already disappeared right before our eyes.
Bois Dentelle
On the island of Maritius, off the coast of southeast Africa, stand two trees that are the only remnants of an entire plant species. Known as Bois Dentelle, these twin trees are known for their beautiful fruits and foliage and stark white bell flowers that bloom between January and March. Located in an area known as "Cloud Forest," these two plants are endangered by their lack of numbers and the degradation of their habitat by encroaching non-native plants like guava and Litsea monopetala (an invasive evergreen).
Phillip Island Hibiscus
Hibiscus insularis, the Phillip Island Hibiscus, is a plant native to Phillip Island off the eastern coast of Australia. Growing only in three small patches on the island, this endangered plant encompasses an area of around 70 metres in diameter. Facing the same endangerment as other rare island flowers around the world, the Phillip Island Hibiscus is a large shrub that reaches heights of 2.5 meters and features cream colored flowers with deep purple or magenta centers. Originally threatened by trampling and grazing animals, the flower is now repopulating as alien animals have been removed from the island, and some plants are being cultivated in Australian botanical gardens.
St. Helena Olive
The story of the extinction of the St. Helena Olive (Nesiota elliptica) begins with one tree discovered in 1977. Thought to have been extinct for years, this last tree lived on a cliff until it withered and died in 1994, causing the classification of the St. Helena Olive as "extinct in the wild." However, one plant that had been cultivated remained after the death of the wild olive, but, unfortunately, perished in 2003, finalizing the extinction of the species. Already plagued with survival issues (fungi, pests and a 99% incompatibility rate with its own species), the tree was ushered into extinction by lumber operations and the expansion of farms and plantations into its native habitat.
Teucrium Ajugaceum and Rhaphidospora Cavernarum
Two plants endemic to Australia have lived the cycle of endangerment and extinction only to have returned after not being spotted for more than 100 years. Teucrium ajugaceum, a plant declared extinct in 1992 after disappearing in 1891, reappeared in 2004 and was discovered by a crew of environmentalists studying the effects of road building on plants. The plant's unique structure allows it to withdraw into an underground tuber each year and sprout at the beginning of the wet season to avoid the damages of wildfires. Rhaphidospora cavernarum, a flowering mint plant that has been missing since 1873, was also rediscovered. Though very little is known about the plant, it is classified as endangered because of its diminutive range and endangerment from weeds and cattle.