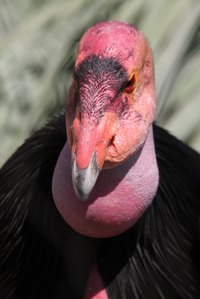 Located along the United States' East Coast, California is a state with plenty of plants and animals that demonstrate adaption to their environment. California has large desert regions in the south as well as mountain areas in the northern part of the state. Each of its many diverse regions has its own endemic flora and fauna thriving within.
California Condor
Scientifically known as Gymnogyps californianus, the California condor is a sizable bird that dwells in select northern areas of the state. National Geographic notes that California condors are the largest flying birds in North America with a wingspan of up to 10 feet. The lifespan of the California condor is about 60 years. These condors once rested on the brink of extinction due to reasons unknown by scientists. In recent years, the California condor has been subjected to captive breeding programs to boost its wild population again. As of 2010, the species still lists among other endangered birds.

Black-Tailed Jackrabbit
The black-tailed jackrabbit, scientific name Lepus californicus, may also be known as the desert hare. These rabbits live throughout the southwestern United States and Mexico. According to University of Michigan Museum of Zoology Animal Diversity Web, black-tailed jackrabbits prefer desert scrublands, farmlands, dunes and prairies. Their ears are longer than rabbits' ears and their hind legs are longer to allow for better running and jumping. These jackrabbits feature a black stripe running down their backs as well as a black rump patch and black tail.
California Black Bear
Black bears, scientific name Ursus americanus, come in a variety of subspecies, usually based upon the region where they are found. Black bears of the northern areas of California are known as California black bears, or Ursus americanus californiensis. Male black bears are much larger than the females, with males weighing about 265 pounds at maturity and females weighing about 176 pounds. Despite their name, the Smithsonian National Museum of Natural History notes that black bears can be brown, cinnamon and blond.

Yucca whipplei
Yucca plants are common throughout southern California's drier desert regions, and Yucca whipplei represents one type of yucca. Known commonly as Our Lord's Candle, Yucca whipplei lives on dry and grassy slopes in Southern California and Mexico. The website Plants for a Future describes it as an evergreen shrub requiring full sun or partial shade to grow. Soil for the Yucca whipplei should be well-drained. At maturity, Yucca whipplei reaches about 6 feet tall.
Balloon Flower
Platycodon grandiflorus is a perennial flower native to China and Japan that has become part of the flora of California. Balloon flowers thrive in dry, hot regions and require full sun to partial shade. Soil must be well-drained for the balloon flower to grow well. This flower blooms throughout the summer, producing blue, violet, white and pink flowers. According to Cornell University's Growing Guide, balloon flower plants reach between 2.5 and 3.5 feet tall at maturity.

Pacific Crabappple
Also known as the Oregon crab apple, Western crabapple or Pyrus fusca, Malus fusca is a tree that grows within wetland areas, such as swamps and marshes. The range of the tree, according to the University of Washington, is from Southern Alaska to California's northwestern coast. Pacific crabapple trees need full sun to partial shade for growth, as well as moist soil. At full maturity, a Pacific crabapple tree may be 40 feet tall.