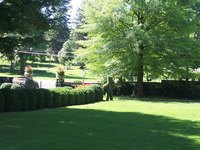 Nutsedge is the actual name of nut grass, but many call it by the latter. Because the roots aren't established as well in the soil yet, the grass can be pulled up to remove a patch of it as long as it is within the first growing season. There are nut-like seeds on the plant that grow new grass when they fall off, and if you decide to pull the plant up, you must make sure you get the seeds. If you have a lot of nut grass, it might be easier to simply spread a chemical to kill it, but it is a stubborn plant and usually takes several applications to kill it all.
Ammonium Salt
Ammonium salt is the chemical that helps the product Image kill nut grass. It works well at controlling nut grass, but as with most products that attempt to kill this particular weed, you need to apply it several times in order to get it all. Use the recommended amounts on the package and apply to the yard. It must be mixed with water, so you need a water hose for the application of the chemical. Wait a week to 10 days before reapplying.
Monosodium Acid Methanearsonate
MSMA, or monosodium acid methanearsonate, is a chemical found in several weed killers such as Acme Crabgrass and Nutgrass Killer and Green Light. It is effective on many weeds such as crabgrass and all sedges including nut grass. Several applications will be needed to completely control the growth of the sedge. These applications should be spaced about a week and a half apart. Waiting longer could mean regrowth will occur that will also have to be dealt with. Always follow the directions on the package for application procedures. Different products might contain different concentrations of the chemical, which means different measurements.
Soil
Sugar is a basic product that works to kill nut grass. This is a great alternative for those that prefer not to use chemicals on their lawn. The yard will need to be soaked down the day before you plan on adding the sugar. Water it until the ground is damp to a depth of two inches. Sugar comes in 5 lb. bags, and this will cover about 1,250 square feet of yard space. You will need to figure how many square feet you have in order to know how much sugar you need. Use a kitchen flour sift to spread the sugar. Walk straight across the yard in rows to ensure you cover it all. The sugar activates microscopic organisms that eat the nut grass. Water the grass after you spread the sugar, just to dampen the grass. This soaks it down in the soil.