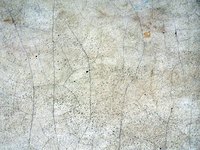 Though concrete floors are traditionally relegated to unfinished basements or outdoor storage areas, several options for finishing concrete floors open up new opportunities so you can incorporate them into general living areas. From colorful washes to faux tile treatments, finishing options for concrete floors have the potential to update a home's interior design without breaking your budget.
Faux Tile
To achieve the appearance of tile without the cost or labor, use scoring techniques to create grids on a concrete floor. During the application process, the contractor uses a scoring tool to create grout lines in the concrete before it dries completely. The lines are then treated with a colored filled to create color variation.
With faux tile treatments, most contractors suggest adding an accent tile border around the concrete to avoid bringing the concrete directly to the wall and interrupting the tile illusion. For a more effective treatment, treat the tiles with a stain or paint to further resemble tile and add variations within each tile section to create depth.
Stains
Concrete stains are one of the most inexpensive and versatile options for treating a concrete floor. Concrete stains create a chemical reaction with concrete to create various effects on the finished product. Some stains can create effects that resemble granite or marble; other stains act more like clean finishes that draw out naturally occurring coloration or distinction in the concrete.
The method of application also impacts the final effect of the stain; stains can be applied with straight edge mops, rags, bristled brushes or sprayers. If you are looking for an inexpensive custom treatment, consider adding mediums to the stain treatments such as saw dust or flat stencil objects such as leaves or other cutouts to create patterns and designs.
Epoxy and Paint
Concrete paint offers a wide range of flat finish colors for concrete floors. One of the drawbacks of paint is that it can chip over time, so manufactures developed a thicker, more durable epoxy finish for concrete floors. Like paint, epoxy finishes are available in a wide range of solid colors, but many epoxies also contain paint flecks or shimmer powders to create even more visual interest. Epoxy floors are especially useful for garages that receive heavy traffic.
Stamping
A more subtle option to create variations in concrete floors is concrete stamping. During the application process, a contractor drops a heavy, textured stamp into the newly cast concrete to leave an imprint that hardens as the concrete dries. Stamps designed to resemble stone, brick or wood create realistic patterns and grains on concrete floors. Pair a stamping project with a stain treatment for the most realistic effects.