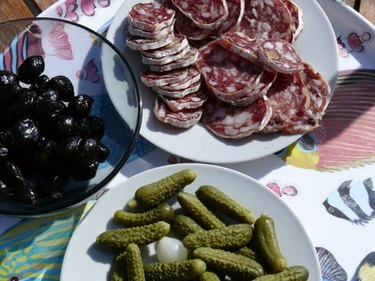 For cocktail parties, wine and cheese gatherings, weddings, showers and other celebrations and gatherings, you may want to splurge on the fanciest foods available. But knowing which foods are not only gourmet, but delicious, can be a challenge for someone who is not a food connoisseur. Here is a sampling of fancy foods perfect for any upscale occasion.
Hors d'œuvres
Some parties are made up entirely of hors d'œuvres, while others incorporate them only as a starter for things to come. The following hors d'œuvres are perfect inclusions to any fancy food list.
Duck Rillettes: A creamy duck spread to be served with crackers or artisan breads
Smoked Salmon: Herbed or seasoned smoked salmon perfect with dill and crackers
Canapés: Toasted bites of bread topped with a spread or cheese, protein and garnish
Stuffed Choux Puffs: A chicken or seafood salad wrapped in a puffed pastry
Entrees
If you're serving an entree, you'll want guests to be impressed by both the taste and presentation of your fancy food. To ensure this, choose an entree that is both beautiful and delicious.
Veal Oscar: Veal medallions topped with crab and smothered in hollandaise sauce
Seared duck: Tender duck breast, topped with a fruit reduction or chutney
Rack of lamb: Served on the bone with herb crust
Cornish hen: Single portion-sized birds perfect for roasting with new potatoes
Desserts
Choosing a fancy and beautiful dessert can be difficult since there are so many options. These fancy treats are unique enough to be remembered.
Burnt caramel salted chocolates: These chocolate bites combine sweet and salty
Pistachio Cannoli: A crisp pastry shell filled with sweetened marscapone, chocolate and pistachios
Creme Brulee: Rich vanilla custard with a flame-crusted sugar shell
English Trifle: Beautifully layered dessert of lady fingers, sweetened cream, fruit and custard
Cheeses
Whether served as hors d'œuvres, with dessert, or as their own course, fancy cheeses can be a great addition to your dinner or occasion. Try exotic cheeses uncommon to typical menus.
Camembert Cheese: A creamy cow cheese from Normandy, France. Great with fruit or crackers
Petit Basque: A mild, nutty cheese made from sheep's milk in the Pyrenees mountains
Hirtenkas: A German mountain cheese made from cow's milk that pairs well with certain beers