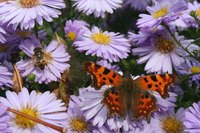 Choose the right flowers to keep color in the garden once fall arrives, as many plants do not come into bloom until the temperatures cool down. Fall flowers come in a variety of colors, and most of them continue to bloom until the first hard frost of the season. Many fall flowers provide nectar to help the remaining pollinators, such as hummingbirds, bees and butterflies, during their migration period.
Asters
Close to 300 members in the aster family exist, and over half are native to the United States, according to Iowa State University Extension. Plant asters in well-drained, moist soil in full sun. Choose varieties that bloom in the fall. With hundreds of varieties to choose from, it is possible to create a pallet of color in the garden with this one plant alone. Tall asters do best in the back of the border, and dwarf asters make great edging plants. Taller asters require pinching back through the middle of June to keep them bushy.

Chrysanthemum
Chrysanthemums, or mums as they are commonly called, provide bursts of intense fall color that continues until a hard freeze kills them, according to Clemson University Cooperative Extension. Some of the typical flower colors include white, red, yellow, pink, coral, bronze, salmon, lavender and burgundy. Mums do equally well planted in the garden or in a container. Plant them in spring or fall in fertile, organic soil. Annual mums, or those that will not come back the following year, are great plants to replace summer annuals. Annual mums do well in shady locations as well as in full sun. Perennial mums come back every year and, like asters, require pinching back to keep them bushy. Plant perennial mums in full sun to keep them blooming at their peak year after year.
Sedum
Sedum is a great plant for the fall garden. Low-growing varieties exist that make excellent ground covers or edging plants, as well as taller varieties that work well in the middle or back of the flower bed. The rose-colored flowers of Autumn Joy that bloom in August and continue until frost hits them is the one most commonly grown, according to the University of Nebraska-Lincoln Extension. Sedum flowers also come in yellow, coppery red and various shades of pink and purple. Look for sedum varieties with black or variegated leaves to add interest to the garden during the spring and summer when sedum is not in bloom.