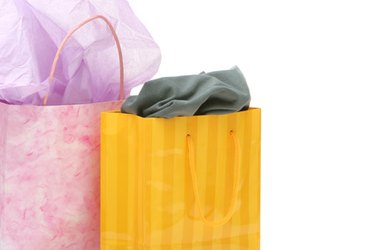 If your church or organization is planning a marriage retreat, and you're looking for gift ideas for participants, it's not necessary to spend a lot of money to put a couple in the mood to reconnect. Simple gift bags filled with themed candy can warm a couple's appetite for each other. Items such as mini-notebooks or personal journals can help facilitate introspection, and candles can transform an ordinary hotel room into a romantic escape.
Themed Candy Bags
Bulk candy is inexpensive and, with a little creativity, can provide a romantic theme that a couple on a marriage retreat will appreciate. In addition to giving participants something to munch on during lecture/presentation sessions, gift bags filled with brand name candy like Almond Joy, Hershey's Hugs and Kisses, pink Jelly Belly jelly beans, and Sweetarts can be bought anytime of year. They help communicate the goals of the conference in a subtle way--joy, physical intimacy and expressions of love.
Gifts to Encourage Reflection
Mini-notebooks, personal journals and simple ballpoint pens can help couples get the most out of a retreat by providing a convenient way to record thoughts and feelings about what they're learning on the retreat and about each other. When explaining the gift bag contents to participants, encourage couples to use one of the sheets in the journal or mini-notebook to write a note to their spouse listing three aspects they appreciate, love or respect about them. This note can be made at the end of the retreat and can follow whatever notes the couples have taken throughout the experience. To encourage further transparency, have couples exchange journals.
Simple, Romantic Gift Ideas
Votive candles with little holders make simple gift bag contents and are an easy item for couples to use to enhance their marriage retreat experience. Include three or four candles, holders and a box of matches or a pocket lighter. By simply turning the lights off, lighting a few candles and putting on some relaxing music, a couple can create a mood that encourages intimacy.