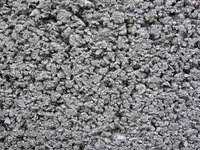 Concrete grinders remove any layers of paint, sealers or gunk that are stuck on top of your floor or driveway. In addition to this, many will texture or polish your concrete, depending on how you want it. Grind the top of your concrete floor or driveway when you want to refinish it or repaint it.
Grinding
A concrete grinder uses diamond or silicon carbide discs run by a multiphase motor to rough up the top of your concrete floor. Often these machines are made so that they can grind marble and granite in addition to concrete. You can vary the levels of grinding by adding discs with different grits into the machine. Grinding usually starts with a lower grit, which is used to get anything off of the top layer and to clean the top of the concrete. You can add other lower grit discs to achieve the texture that you desire.
Concrete Dust
The high speeds of the grinder and the presence of silica in the concrete creates a great deal of hazardous dust. Even if you are wearing a respirator, this silica dust can cause lasting damage to your lungs. You can prevent this in two ways. If you do not have much man power, you can attach a vacuum system to the grinder. This gathers up the dust and keeps it from being dispersed into the air around you. The other option is to do what is called wet grinding. Normally you just grind the concrete without the aid of any lubricant. However, many grinders allow you to put water in between the concrete and the grinding disc. Although this is safer, does not put as much stress on the machine and virtually eliminates dust, it is more expensive and requires more manpower.
Polishing and Finishing
You can also use a concrete grinder as a polisher if you want a nice sheen to your floor. This is done by increasing the grit of the grinding disc over successive passes. Once polished, you can either let it shine, or you can texture your floor using any number of specialty discs that are available in stores or online. For example if you are going for a more rustic look, you can get a bit that roughs up the concrete to make it look like a stone floor.