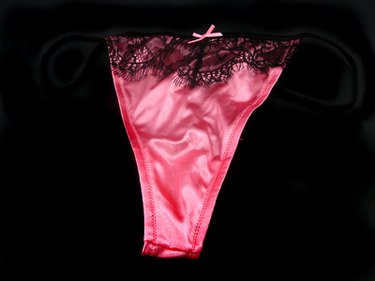 If the bride-to-be is the adventurous sort, consider having a naughty themed bridal shower. This theme is definitely not for the shy or demure bride, but will be big on laughs. It provides an opportunity for the bride to have some fun during a time when she may be stressed out from all the wedding planning. Throw a sexy shower for your friend that will give her a chance to be with the girls before her wedding.
Venue and Decor
To really set the mood for a naughty shower, consider the venue. Hold the shower at a lingerie store, sex shop or a strip club geared to women. If that is not an option, decorate your venue with naughty decorations. Blow up condoms to substitute for balloons, lay lace around, hang up handcuffs for decorations and buy cheap thong underwear and throw those over chairs. Purchase a penis shaped pinata from a sex shop and other novelty decorations to make guests blush.
Food
Make cupcakes and pipe icing bras and panties on them, or call around to find a bakery that makes naughty cakes, or a cake in the shape of a corset. Serve champagne, strawberries and whipped cream, chocolate fondue with cake for dipping, and any other foods that seem a little decadent. Have girl-inspired cocktails such as Cosmopolitans or fruit daquiris.
Gifts
To shop for a naughty bridal shower, it would be creative to give one dirty and sexy gift and maybe one "real" gift such as a pretty nightie or bra and panty set. The "dirty" gift could be a novelty from a sex shop, a sexy movie or some furry handcuffs. Other naughty gifts could include edible massage oil, scented candles, a sex position book or a CD of sexy love songs.
Party Favors
Let guests take home some of the action by filling favor bags with funny and dirty items. Flavored condoms, lollipops, mini bottles of lotion, votive candles, handcuffs, mini sex position books and a pair of sexy panties are some interesting options.