Each year, many Americans visit Tuscany, and some return inspired to recreate a bit of that sunny land in their gardens. The vivid colors and strong shapes in Mediterranean landscaping make it a natural for tying stucco walls to their surrounding grounds. Plants with Southern European origins often thrive in California and other parts of the United States with a climate comparable to that of the Mediterranean region. Where the traditional plants will not grow, substitutions may be possible.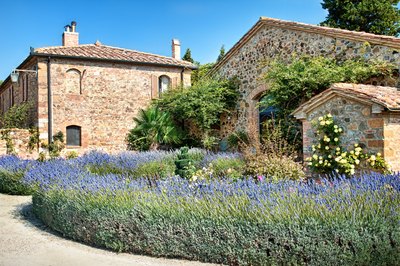 Lofty Spires
Perhaps the most recognizable plants in a Tuscan garden are tall, narrow evergreens, such as the Italian cypress (Cupressus sempervirens), which does best in U.S. Department of Agriculture plant hardiness zones 8 to 10a. A waterwise plant, the cypress's lifespan decreases in rainy, coastal regions or where the soil is compacted. Better choices for these areas might be a columnar juniper (Juniperus scopulorum "Skyrocket") or American arborvitae (Thuja occidentalis "Emerald"), both recommended for USDA zones 5b through 10. Use these spires to line driveways or walkways and lend height and formality to the landscape. Dwarf varieties of Italian cypress, such as "Tiny Tower," create a focal point when planted in urns on either side of a doorway. Since all of these upright evergreens have a bluish cast, they coordinate well with the terra-cotta vessels, apricot flowers and purplish herb blooms also often found in a Tuscan garden.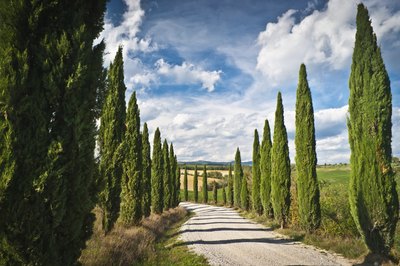 Aromatic Herbs
Grown for both fragrance and color, herbs balance the tall trees and provide reminders of the fields of Tuscany. Plant them along a path or near a seating area, so that their foliage will release scent when you brush against them. Lavender (Lavandula dentata) is the quintessential Mediterranean plant, flourishing in USDA zones 8 to 10. With purple flowers like lavender, rosemary (Rosmarinus officinalis) thrives in a wider area, USDA zones 7 to 11, and can be another good addition to a Mediterranean garden. As a plus, both plants attract birds, butterflies and bees. In much of Texas, even though the zone might be suitable, lavender struggles with fungal and bacterial diseases when thunderstorms strike during summer's heat. Russian sage (Perovskia atriplicifolia) offers a purple-flowered, but unscented, alternative. Grow it in USDA zones 5b to 10.
Spilling Plants
Another theme in a Mediterranean garden is an exuberant display of flowering perennials and vines climbing over walls and trellises and spilling out of containers. In Tuscany, small flowerpots may be mounted on a wall, all the way up and down. The showy flowers soften the hardscape and contrast with formal elements in the garden. Plant the monkey flower (Mimulus spp.) or leopard lily (Lilium pardalinum) for their quirky, orange blooms in USDA zones 7a to 10 and 5b to 10a, respectively. Let clematis (Clematis spp.) and wisteria (Wisteria spp.) climb a wall or twine around a trellis. Both thrive in USDA zones 6 to 10. With its orange-red flowers and red fruit, a pomegranate (Punica granatum "Wonderful") tree espaliered against a wall adds an unmistakable Mediterranean touch. Grow it in USDA zones 7 to 11.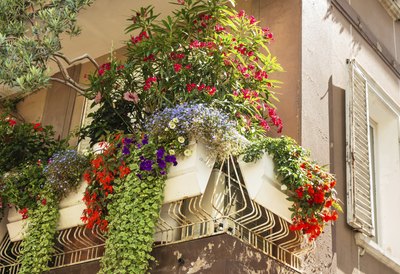 Other Landscape Elements
As important as the plants in a Tuscan garden, hardscape features, including stone paths and patios, tilework and large containers and statuary, complete the design. Warm, subdued colors in the hardscape act as a foil for the plant hues. Since Mediterranean gardens require heat to flourish, adding a water feature can be refreshing. A small pool or fountain, built in the style of the rest of the garden, should muffle the sound of any urban distractions. To further personalize your garden, visit a local ceramics studio and paint tiles with swirls of colors compatible with your landscape, such as orange and cobalt blue. Incorporate the tiles into stepping stones or an outdoor tabletop.