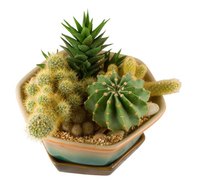 We invite cacti into our homes for their fascinating form and symmetry and their brightly colored blooms. Most cacti are adaptable to life indoors. All they need is a well-drained soil and a sunny window. They will survive occasional neglect but won't tolerate overwatering.
Pincushion Cactus
This clump-forming cactus has spines that are so long and soft that they appear to be silky hairs covering the plant. This cactus is popular as a houseplant because it requires very little care and begins flower freely while young with pink flowers that encircle the top of the plant. There are three popular types of pincushion cactus: old lady cactus has purplish red flowers, rose pincushion cactus has deep red-violet flowers and snowball cushion cactus is noted for its pale color and pink spines.

Chin Cactus
Sometimes called notocactus, these compact cacti take very little space. They do well in dish gardens and mixed plantings. They flower often and start at a young age. The flowers are pink, white or red.

Prickly Pear
These low-growing cacti have barbed spines that cause painful pricks. Most have showy flowers followed by edible fruit and flat, oval pads. Two popular varieties are bunny ears and grizzly bears.

Giant Saguaro
This familiar cactus has outstretched branches resembling arms, and young specimens look great in containers. The white flowers, which are Arizona's state flower, open at night and close the following afternoon. Giant saguaro is the largest native cactus and it is protected by law. Many birds, including white-winged doves, gila woodpeckers, elf owls, cactus wrens and gilded flickers depend on this cactus in the wild.
Rainbow Hedgehog Cactus
This little cactus flowers at a young age with a ring of highly ornamental flowers up to 3 inches long in shades of pink and purple. The blossoms appear on the crown of each stem and open at night. It grows less than 18 inches tall with a cylindrical or oval shape.

Holiday Cactus
Christmas, Easter and Thanksgiving cacti all belong to the rain forest cacti group. Their appearance, with wide flattened branches and no spines, is very different from that of desert cacti. These cacti need higher humidity and substantially more water than desert cacti, but should never be left in standing water. Holiday cacti prefer filtered light rather than direct sunlight, which can scorch the plants. They bloom profusely in bright colors and are popular as holiday gifts.