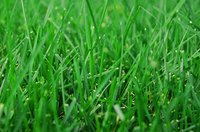 Clemson Universityâ??s Cooperative Extension Service lists seven grasses common to South Carolina and explains how the variation in environmental and soil conditions throughout the state make some locations more hospitable to certain grasses. South Carolinaâ??s grasses range from expensive, fine-textured turfgrasses to hardy, low-maintenance grasses.
Ryegrass
Ryegrass is used to overseed dormant lawns, providing a green winter cover for warm-season lawns. The two types of ryegrass, perennial and annual, helps prevent brown lawns during winter and erosion while new lawns are established. Ryegrass is suitable for sun and shade. The Clemson Cooperative Extension Service recommends using ryegrass for overseeding only in the fall in South Carolina.
Bermudagrass
Bermudagrass, used throughout the state, is also called devilgrass and wiregrass. These grasses are found on golf courses, tennis courts, athletic fields and high-quality lawns. Bermudagrasses provide fine-textured turf and are well-suited for oceanfront property. Bermudagrass falls dormant in most of South Carolina during cold weather.
Centipedegrass
Centipedegrass was first used for cemeteries because of its low maintenance properties. It adapts well to the coastal plains and the southâ??s lower piedmont areas. Low-growing and medium-textured, it is the Southâ??s most common turfgrass used for home lawns, according to the Clemson Extension Service.
Tall Fescue
Tall fescue, a cool-season grass, is popular in South Carolinaâ??s mountains and upper piedmont areas. Tall fescue remains green long after warm-weather grasses have turned brown. This and other cool-season grasses wonâ??t grow along coastal areas. Tall fescue grows quickly in the spring and fall.
St. Augustinegrass
St. Augustinegrass is best suited for warm weather and grows quickly from spring to early fall, turning brown during winter. The shade-tolerant grass forms a dense turf and spreads quickly. It is often used as borders and grows well in coastal areas.
Zoysigrass
Zoysiagrass, a warm-season grass, grows well from spring to early fall and turns brown in winter. Zoysiagrasses grow well all over the South and are very cold-tolerant.These slow-growing grasses are usually established by plugging or sprigging.
Carpetgrass
Carpetgrass, also called Louisianagrass, does not tolerate cold and drought well. This creeping, warm-season grass can have a ragged appearance like crabgrass and grows well in poorly drained soil.