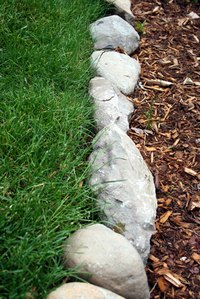 Sometimes one of the most frustrating things about planting a flower or vegetable garden in your yard can be keeping grass out of the garden. Using lawn edging helps gardeners further separate their lawns from the garden space. Edging also helps create a physical border between garden soil and the lawn, keeping grass at bay.
Wood and Brick
Wood and brick edging options are popular choices for many gardeners, especially those on a budget. Railroad ties and recycled bricks can be used to line garden spaces, walkways and outdoor patios. According to Reliable Remodeler, any wooden garden borders should be properly treated to prevent rot. Rotten wooden boards will allow grass to penetrate the border. The Northscaping Info Zone website warns that grass can grow roots which will invade small cracks in brick borders. Wood and brick borders provide effective protection from grass; however, it's a temporary protection. These uses are recommended for those who plan to re-sculpt or replant gardens every three to five years.
Plastic and Metal
Another inexpensive garden edging material is black plastic edging, according to Northscaping Info Zone. When using plastic edging, you should ensure it extends at least five inches below the surface to help prevent deep grass roots from overtaking the garden. The top edge of the plastic should be level with the garden soil and may be covered with extra soil to prevent it from showing.
The Family Handyman suggests using metal stripping for a clean edging line. Like plastic, metal edging should extend several inches below the soil line for maximum effectiveness. Keep metal edging about a half inch above the soil line, to prevent grass roots from crossing over the line.
Concrete and Pavers
Pavers and laid concrete curbs are perhaps the most permanent type of garden edging. According to Northscaping Info Zone, concrete curbs can be cast directly in the yard. As a result, this type of garden edging can prevent virtually all grass from invading the space. The main drawback to concrete curb edging is that it requires a significant, upfront expense.
Pavers can also create a professional-looking garden edge, according to Family Handyman. Pavers come in many colors, textures and varieties including brick and concrete styles. Brick pavers are less likely to break down than traditional bricks. For best results, dig a trench twice as wide as the pavers and at least eight inches deep. The trench should be filled on all three sides with landscape fabric to prevent grass roots from invading the trench. Fill with crushed rocks and set the pavers on top.