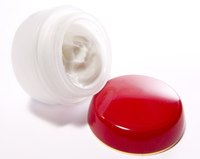 Bumps on the skin are generally caused by pores or hair follicles clogged with dead skin cells, oil, protein or mites, and are associated with a wide range of skin maladies, such as eczema, rosacea and psoriasis. Keratosis pilaris, a common genetic follicular disorder in which the pores are clogged with keratin, appears as rough bumps on the upper arms, thighs and buttocks. This condition can be aggravated by mites. Several options are available to treat these skin problems.
Exfoliation
Data from KeratosisPilaris.org indicates that exfoliation seems to work for many with keratosis pilaris. Several mechanical or chemical exfoliation options are available through dermatologists or plastic surgeons. The American Society of Plastic Surgeons website has a glossary of procedures to help you understand the processes involved.
A method of exfoliation that can be done at home, offered on the American Osteopathic College of Dermatology website, consists of taking a long, hot soaking tub bath and then rubbing the areas with a coarse washcloth, stiff brush, or "Buf-Puf."
Moderate Suntanning
In cases where keratosis pilaris is aggravated by mites, moderate suntanning is recommended because sunlight kills mites. Evidence also suggests that sunlight kills acne-causing bacteria, though cosmetic and pharmaceutical companies are not likely to support this remedy since they can't charge for sunlight. Moderate sun exposure is required for the body to synthesize vitamin D, so unless you have real problems with sunlight, skip the pore-clogging sun block for a few minutes and get some sun for 10 to 15 minutes a day.
Over-the-Counter and Prescription Creams
The members of the keratosis pilaris community at KeratosisPilaris.org have experienced relief with several over-the-counter creams made specifically for those with bumps on their bottoms.
Medicated creams containing urea or alpha-hydroxy acids can be applied; although, warns the American Osteopathic College of Dermatology (AOCD), they may be too irritating to use more often than twice a day. Prescription medicines, the College lists, that may help include antibiotics erythromycin and bactrim, if the spots are very red and tazorac cream. Tazorac, a relative of vitamin A, may cause irritation in some people, says the AOCD.
Other Tips
According to KeratosisPilaris.org, there is no cure for keratosis pilaris and no one remedy works for everyone. Sea buckthorn soap seems to work for some, while changing diets to help the body reduce oil on the skin works for others. Those with eczema or psoriasis would benefit from more moisturizer. Trial and error, research and persistence seem to get the desired results.