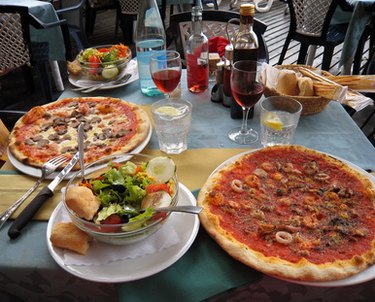 Food is at the center of Italian culture, particularly during times of celebration. The food is heavily influenced by local animals and crops, as well as Roman Catholicism, which is the major religion of the area. Most celebratory meals include a selection of cold cuts, cheeses and vegetables, a main serving of pork or lamb and, of course, pasta dishes.
Weddings
The starting dish of Italian weddings is typically antipasto, which includes stuffed mushrooms, olives, salami, pickled peppers, calamari and prosciutto, along with the sweet treat, confetti, which is white-sugar-coated almonds. The main course is a large, meat dish, which may be roast suckling pig or lamb, served with pastas, fruits and wine. Some foods are symbolic; wanda, bow-tied twists of fried dough sprinkled in sugar, means good luck. The wedding cake is served alongside other pastries and coffee.
Christmas
One of the highlights of the Italian holiday season is the Feast of Seven Fishes eaten on Christmas Eve, which generally includes calamari, scungilli, baccala or dry-salted cod, shrimp, clams, mussels and one large fish-- a snapper, trout, tuna or salmon. During Christmas day, snacks include sandwiches, fruits and nuts. As with most Italian celebrations, the starting course on Christmas Day is antipasto, followed by soup, a pasta, a meat dish and salad, accompanied by glasses of wine. For dessert, Italians visit what they call the Venetian table, which holds cookies, puddings and pastries, served with coffee.
Easter
Eggs are the star ingredient in Italian Easter dishes, as they are a symbol of renewal and life. Two of the most popular egg dishes are brodetto pasquale, which is a broth-based soup thickened with eggs, and torta della pasqualina, a pie made from ricotta cheese, eggs, cold cuts and hard cheeses. Lamb is typically the main dish, grilled or roasted on a spit. Breads are shaped into crosses and doves. Side dishes typically include asparagus, artichokes, fava beans and baby peas.