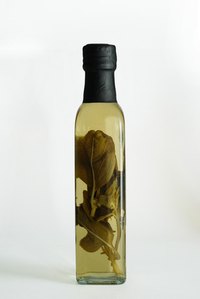 In ancient times it was discovered that grape juice left undisturbed turned to wine; subsequently the undisturbed wine would eventually turn to vinegar. According to legend, the use of vinegar dates back to the Sumerians and Babylonians who used vinegar for cleaning and as a food preservative. Throughout history, both ancient and modern, white vinegar continued to be used for many different purposes including cooking, cleaning, personal care, pet care and indoor or outdoor pest control.
Cooking
White vinegar is used to make herb or berry flavored vinegars which can be used to flavor foods and sauces. It is also used in combination with oil and seasonings to make vinaigrettes. Dips, chutneys and pickled vegetables are also made with white vinegar.
Cleaning
White vinegar has a wide range of cleaning uses. It can be added to laundry machines in place of fabric softener to soften clothes and reduce lint, in place of bleach to remove laundry stains and brighten fabrics. Use it to eliminate soap residue and static cling, and to remove stains and odors from clothing. Full strength vinegar is used in the kitchen and bathroom to clean and disinfect countertops, sinks, appliances, vinyl and ceramic floors, toilets and tubs. White vinegar kills mold and mildew; restores carpets, removes stains, gum and candle wax, and can be used as an all-purpose cleaner around the home.

Personal Care
Soaking a toothbrush in white vinegar will eliminate bacteria and brushing teeth once a week with vinegar will help increase whitening. Vinegar has been used internally to prevent nose bleeds and reduce nausea and nasal congestion. It is also beneficial in treating finger and toenail fungus and muscle cramps. Rinsing hair in vinegar will remove soap residue, give it extra shine, protect color treated hair and reduce the risk of head lice.

Pet Care
White vinegar is used to clean rabbit, bird and hamster cages, effectively removing droppings and odors. It also neutralizes the ammonia smell of cat litter boxes and is helpful in removing urine and pet odors around the house. White vinegar has been effective in house-training kittens and puppies by discouraging them from eliminating in areas treated with vinegar. Using vinegar on a pet's coat will keep it clean, healthy and shiny; combined with rubbing alcohol and water it relieves itching ears in pets.
Pest Control
Vinegar is used as an animal deterrent and can prevent animals from entering the garden or yard. It is also an insect repellent that prevents ants and other crawling insects from entering the home. Vinegar acts as a natural pesticide for slugs and mealybugs when full-strength vinegar is dropped directly on them.