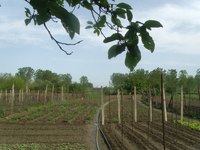 Growing vegetables is a wonderful way to eat healthy, go green and save money all at the same time. Some vegetables, like other plants and flowers, do better in certain climates and geographic regions than others. Georgia's clay-like soil, hot temperatures and frequent drought periods are key factors in determining which vegetables grow well there. Relatively mild winters do, however, allow for a longer growing season, which means that each plant has the potential to produce more vegetables in a year.
Plant Vegetables
Green beans, tomatoes and bell peppers are staples of the southern garden. Plant green beans early and pick them while they are young for a sweet, crunchy taste. Tomatoes come in several varieties that do well in Georgia such as Roma, beefsteak and cherry. All are tasty on sandwiches or in a summer salad. Bell peppers (and their hotter counterparts) are hardy plants that do well in the Georgia heat. Okra, a favorite southern vegetable, in another garden favorite. Even eggplant does well here, although it is susceptible to insect infestation and must be watched carefully.
Vine Vegetables
Squash and cucumbers are extremely popular with those that have space to let the vines grow. Vine vegetables do need plenty of room to spread out if they are to do well, but are generally hardy plants that are easy to maintain. Gardeners grow varieties of squash including summer, winter, acorn, zucchini, yellow and even pumpkins. Cucumbers are especially popular because they can be canned as homemade sweet or dill pickles.
Other Vegetables
Corn is not as easy to grow as some other vegetables, but is nonetheless popular. Corn requires a fair amount of room and also requires heavy watering. This can be a challenge during Georgia's traditionally dry summers. Root vegetables such as carrots, turnips and beets also do well in Georgia as long as you plant them in dirt rather than clay and water them frequently. Root vegetables are also favorites for home-canners.