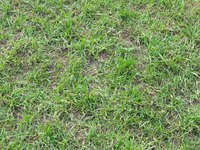 Crab grass is an unattractive weed that longs to spread, killing the grass and plants you actually want to keep. Unsightly crab grass makes your lawn look wild, untended and uninviting. If you don't want to apply harsh chemicals to your lawn or pay for expensive lawn care services, try natural home remedies that kill crab grass instead.
Basic Care
The best natural home remedy for crab grass is simply proper care and maintenance. A well-treated lawn is much less likely to support weeds. Regularly aerating, watering, fertilizing and mowing your lawn will keep the grass healthy and happy, creating an environment that thwarts weeds. Place a 1-inch layer of mulch over flower beds in early spring to keep weeds from reaching sunlight. Adding plants such as sage, sunflowers and Manzanita to your garden also help suppress weed growth. Bare lawn and garden areas are fertile for little else than weeds, so prevent unsightly crab grass by keeping these areas well-seeded and healthy.
Corn Gluten
Corn gluten meal is a natural, chemical-free home remedy that helps prevent the germination of crab grass, as well as other weeds. Apply 20 lbs. of meal to your lawn and garden area for every 1,000 square feet. Apply the meal in an even layer twice a year--in early spring and late summer--to naturally prevent crab grass.
Baking Soda
Standard baking soda helps solve mild crab grass problems. A little bit of baking soda goes a long way on crab grass, so apply it sparingly when treating your lawn and garden for the pesky weed. Sprinkle a small amount of baking soda directly on crab grass, just enough to lightly dust the weed and the ground immediately around it. Within weeks, the crab grass will begin to brown and wither. Dig up the dead crab grass, which should come out of the ground easily, and replace the deadened area of your lawn with plugs or new sod. If you do not re-seed the dead area of your lawn, new weeds will appear.