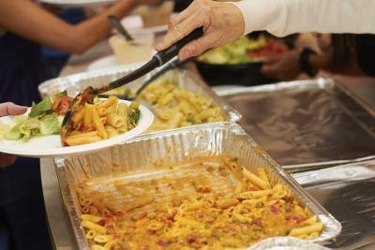 Buffets are a great way to informally entertain a crowd, and Italian buffets always are popular. Everyone enjoys pasta. However, hosting a buffet requires some planning and working ahead to make sure the event comes off perfectly.
Planning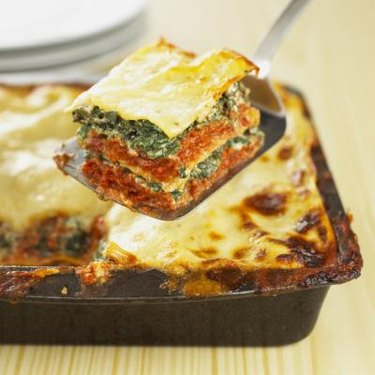 Plan a menu that touches each food group. Serve at least one protein, one vegetable, one carbohydrate, a salad dish and a bread, according to CBS News. With an Italian buffet, that means the entree may include both the protein and carbohydrate, such as lasagna or stuffed pasta shells. You can make these dishes if you have a good recipe for them, but if you don't want to spend a lot of time in the kitchen, run by the grocery store and grab a couple of big pans of lasagna. Each 6-pound pan serves up to 12 people. Also, try setting the buffet table a day ahead using empty dishes marked with what they will serve. This will ensure balance and help you decide if you will need additional tables.
Setting Up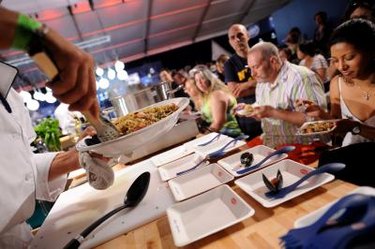 Place serving tables away from the wall so guests can access the buffet from all sides to improve traffic flow. Arrange dishes based on how people eat–salads, entree, side dishes. Bread can go at the beginning or the end of the table. Set up beverages and desserts on separate tables. Add another table for coffee service. Set the mood by playing soft Italian music in the background. Dean Martin, Luciano Pavarotti and Andrea Bocelli are good choices.
Appetizers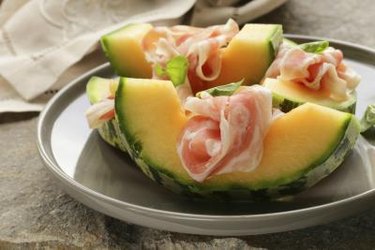 If you plan on serving appetizers, have them prepared before your guests arrive. Prosciutto-wrapped honeydew melon is simple: Remove the fruit from one honeydew with a melon baller. Wrap each melon ball in a slice of paper-thin prosciutto. Secure with a toothpick. For extra garnish, you can add a mint leaf. Refrigerate. You also can wrap asparagus spears in prosciutto for an easy yet elegant appetizer.
Salads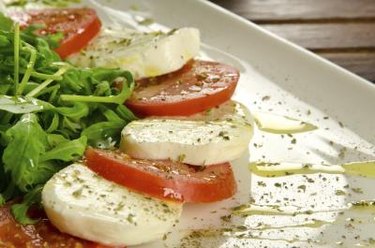 The salad dish can be simple and quick to make, and an important part of the meal. Make a caprese salad using three vine-ripe tomatoes cut into ¼-inch thick slices, one pound fresh mozzarella cut into ¼-inch thick slices, 20 to 30 leaves (about one bunch) fresh basil, extra-virgin olive oil for drizzling and coarse salt and pepper. According to Food Network, layer alternating slices of tomatoes and mozzarella, adding a basil leaf between each, on a large, shallow platter. Drizzle the salad with extra-virgin olive oil and season with salt and pepper, to taste. This recipe serves four to six, so adjust it to your party size.
Side Dishes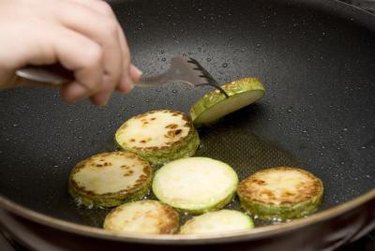 Genuine Italian side dishes typically are very simple–usually a vegetable drizzled in olive oil and seasoned with coarse salt and pepper. This authentic fried zucchini recipe from italyrevisited.org is pretty easy: Cut three zucchini into ¼-inch thick slices. Season flour with salt and pepper. Dredge zucchini in flour mixture. Heat oil in a large frying pan. Add the zucchini slices in batches and fry for a few minutes on each side until they are golden brown and crisp. Drain well on kitchen paper. Remove to a serving dish.
Bread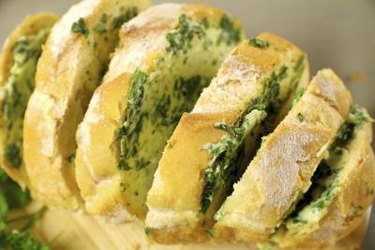 Garlic bread with an Italian buffet almost is a no-brainer. But remember that it will go fast. To make the bread, drizzle whole garlic bulbs with two tablespoons of olive oil and roast in the oven at 400 degrees for about 35 minutes. Once cooled, spread over warm French bread and serve.
Dessert
One elegant Italian dessert that doesn't take a whole lot of effort is oranges in marsala. You'll want to adjust this recipe from Gourmet magazine to suit your party size. For every four servings, you'll need four and a half navel oranges, half cup sugar and half cup sweet Marsala wine. Squeeze enough juice from half an orange to measure two tablespoons. Cut peel, including all white pith, from remaining four oranges with a sharp knife and discard, then cut oranges crosswise into 1/4-inch-thick slices. Cook sugar in a small dry saucepan over moderate heat, undisturbed, until it begins to melt. Continue to cook, stirring occasionally, until sugar is melted into a deep golden caramel. Add juice and wine carefully (caramel will harden and steam vigorously). Cook over moderately low heat, stirring, until caramel is dissolved, about five minutes. Remove sauce from heat. Arrange orange slices, overlapping, in four shallow bowls and spoon sauce over fruit. Let macerate at least 30 minutes before serving. The orange slices with sauce can be prepared four hours ahead and kept, covered, at room temperature.