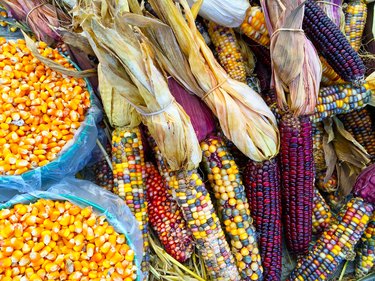 The culinary heritage of the Southwestern United States intertwines with the cultures of numerous Southwest Native American tribes dating back thousands of years. Many of the ingredients and preparations commonly associated with contemporary Southwest foods, especially those featuring corn, beans, squash and chile peppers, are directly linked to the traditions of Southwest Native Americans. It's fascinating to uncover the evolution of Southwest foods from ancient times through centuries of upheaval to today's dynamic and diverse culinary landscape.
The Roots of Southwest Native American Foods
A huge portion of the world's major agricultural crops – around three-fifths – has origins in the Americas. Among them are tomatoes, potatoes, chile peppers and the "three sisters" trio of maize/corn, beans and squash. These crops were domesticated by indigenous peoples and cultivated as staple foods across the Americas for thousands of years prior to European contact.
In what is now the U.S. Southwest, Native American tribes cultivated varieties of those crops suited to the arid climate. They also gathered wild foods, including seeds and nuts to grind into flour and mush, prickly pear, berries, wild greens and herbs. Wild ancestral foods still available to foragers today include wild Indian tea, wild purslane, tumbleweed greens, piñon and yucca blossoms. Meat made up only a very small portion of the ancestral Southwest Native American diet and consisted almost entirely of small game, such as rabbits.
The Three Sisters and Southwest Food
The tradition of cultivating and cooking the "three sisters" (maize/corn, beans and squash) as a united trio has been traced back to around 7000 B.C. The concept is not unique to Southwest Native American tribes but is a common feature among indigenous communities across the Americas. The three staple foods, each with countless varieties suitable to diverse growing conditions, complement each other both as crops and as components of a complete meal. Corn stalks provide a natural trestle for climbing bean-plant vines, the beans enrich soil with nitrogen and the broad leaves of squash plants shade the soil and help it retain moisture. Further, corn and beans provide a complete protein source when eaten together but not separately.
Southwest Native Americans have cultivated specific strains of corn, beans and squash to suit the region's climate. The Hopi, for example, have traditionally grown white, red, yellow, blue and speckled types of corn. Corn was not traditionally eaten fresh but was ground into flour for breads, tortillas and mush. Today, blue corn tortillas are still a regional specialty of northern New Mexico. Dried pintos are a common type of bean grown in the Southwest along with the more traditional tepary and Anasazi beans.
The European Influence on Southwest Foods
The arrival of European colonizers in the now-American Southwest had a major impact on the region's Native American food traditions. One facet of that impact was the interruption of thousands of years of food traditions passed down through oral history. Another was severing the Southwest Native American tribes' ties to their ancestral lands. Forced relocation in the 19th century plus the deliberate eradication of Native cultures cut people off from their traditional food sources and made them reliant on government-issued rations. These comprised Western staples, like wheat flour, lard, canned meat and sugar.
Southwest Native American tribes evolved their cuisines to include processed foods from rations along with traditional fare. An example of such syncretism is the "Navajo taco," with a shell of wheat-based fry bread topped with bean-, chile- and tomato-based mixtures. Other effects of European influence are seen in the Navajo (Diné) tribe's raising of sheep, which were originally imported to the Southwest by Spanish settlers. The Spanish also brought the chile plant from Mexico to the Southwest. New Mexico's celebrated regional cuisine, to which chiles are central, has a mixed Native and Hispanic heritage with some Anglo influence as well.
Contemporary Southwest American Native Cuisine
From high-end restaurants to home kitchens, Southwest American Native cuisine continues to evolve with an ever-greater diversity of influences plus a renewed dedication to reclaiming ancestral food traditions. Different tribes, communities and individuals have their own opinions on the cultural value of certain foods. For example, some see frybread as a symbol of pride and perseverance, whereas others consider it an oppressive health hazard.
While Southwest food isn't very well known outside its home region, a number of Southwest Native American chefs, community leaders and nonprofits are dedicated to preserving and promoting its traditions. Examples include Native Seeds, a Tucson, Arizona-based group with a mission to preserve the agricultural biodiversity of the Southwest and the heritage of over 50 indigenous communities. They offer more than 500 seed varieties for sale. Red Mesa Cuisine, founded by chef Lois Ellen Frank, Ph.D. (Kiowa) and Walter Whitewater (Diné/Navajo), works to sustain traditional Native foods, agriculture and culinary techniques. The catering company offers recipes online and also hosts educational cooking events.