The two basic types of cherries are sweet cherries (suitable to be eaten straight from the tree) and sour cherries (commonly used in baking, such as the cherry pie). Cherries ripen early; most are ready for harvesting by late spring. Generally, most sweet cherries need a pollinizer whereas most varieties of sour cherries are self-fruitful (i.e. do not require a pollinizer). Annual pruning of the cherry tree will maintain good health. Cherries should always be picked ripe as they do not ripen well after picking.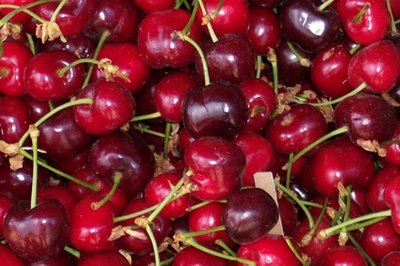 'Emperor Francis'
The 'Emperor Francis' variety of sweet cherry is a white or yellow-fleshed cherry, suitable for use as fresh fruit. It is the main cultivar that is used in the eastern United States for brining, often processed in maraschino cherries. The 'Emperor Francis' is known as a good quality, hardy, productive fruit with a firm texture.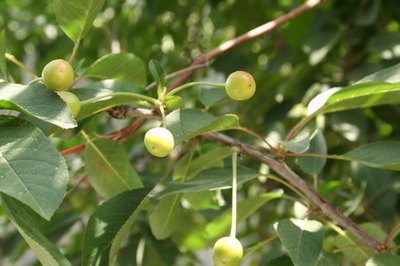 'Ulster'
Another sweet cherry, the 'Ulster' variety is almost black in color; a medium-hardy, firm fruit that is growing in popularity for commercial use due to reports of good quality yields in many growing areas. It is moderately resistant to rain cracking, which is caused by absorption of rain water or dew through the skin of the fruit, eventually leading to it bursting open.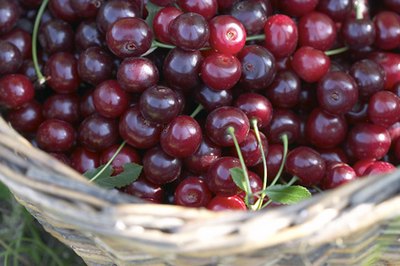 'Sunburst'
Another variety of sweet cherry, the 'Sunburst' is a self-fertile fruit that is suitable for areas with poor pollination. It was released by the Agriculture Canade Research Station in British Columbia in 1983. A mid-season, dark colored fruit, it is a large cherry with an impressive yield and high resistance to rain cracking. Brown rot, however, can be a problem due to problems with over-setting and fruit clustering on the tree. This can affect the size and quality of the fruit.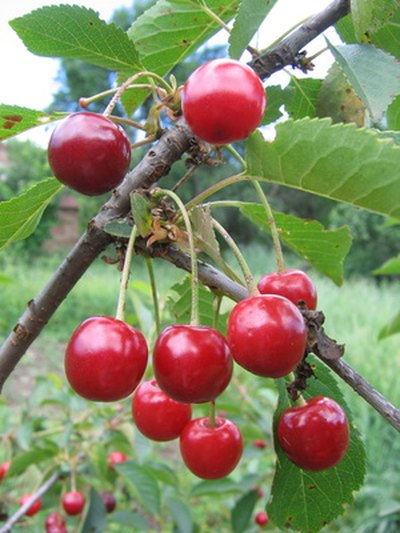 'English Morello'
The 'English Morello' is a sour variety of cherry that produces a dark colored juice and is known to be ideal for pie making. It produces medium sized fruit that are semi-firm with reddish-black skin. The 'English Morello' cherry is widely used commercially, for juice and in cosmetic dyes.
'Montmorency'
The 'Montmorency' is the most popular variety of sour cherry, making up 96% of the total tart cherry production and commonly used for pie fillings and toppings. It has a clear juice and is a productive plant, despite its flower buds being susceptible to spring frosts.