When designing floral bouquets, it helps to know what flowers are commonly used in bouquets. In most cases, the choice of flowers for a bouquet is based upon three things; availability, preference and season. Once you know what flowers to use in a bouquet, choose what you like based from what is available to you in a given season.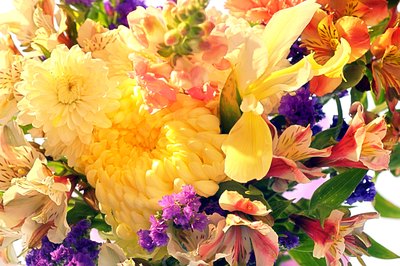 Roses
Roses are used in floral bouquets because the long stems make good anchor flowers, and they are beautiful in both bud and bloom stage. Roses can be purchased nearly any time of the year, but the cost may be higher during winter months and holidays. Roses come in a variety of colors and sizes, which also makes them ideal for flower bouquets. Long-stem, standard and petite are the most commonly used varieties for floral bouquets.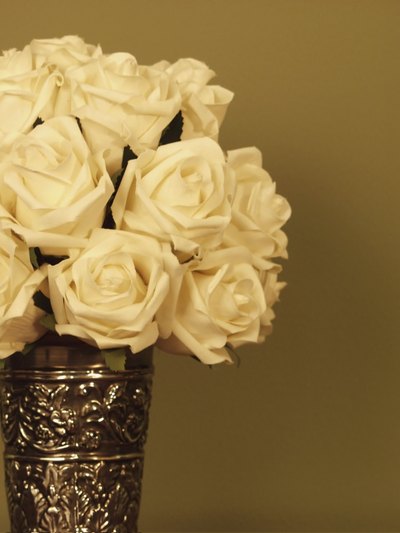 Lilies
There are a number of different varieties of lilies used in floral bouquets. The three most common are stargazer lilies, calla lilies and Peruvian lilies--otherwise known as alstroemeria. Peruvian lilies are a popular accent flower in mixed bouquets because they come in a variety of colors. They also fill a flower bouquet out nicely because they have several blooms on one stem.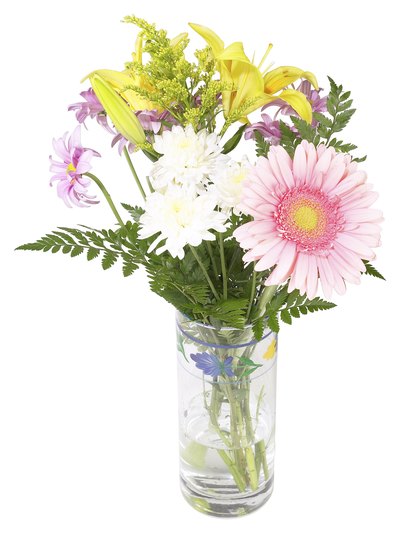 Daisies
Daisies are another common flower in bouquets. Gerbera daisies are a popular choice because they come in a variety of vibrant colors; have long, hearty stems; and are large and full when in bloom. Germinis are a smaller version of the gerbera daisy and they are also commonly used in mixed bouquets.
Carnations
Carnations are used in bouquets because they come in a variety of colors and they are inexpensive. Carnations are nice and full in bloom, so they can be used both as an accent, or anchor flower.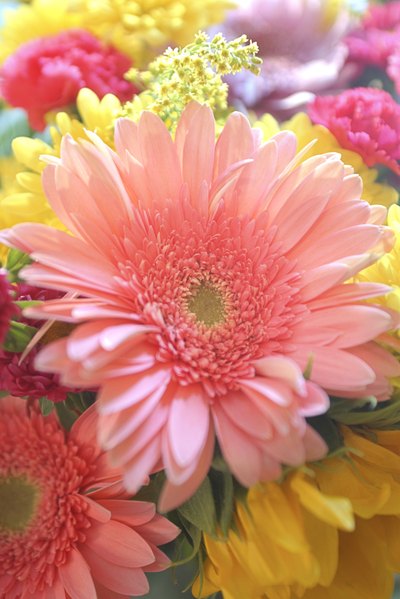 Tulips
Tulips are used in floral bouquets primarily in the spring, but can be used year round. Tulips come in different of colors and varieties. The most common type of tulip used in flower bouquets is the Dutch tulip.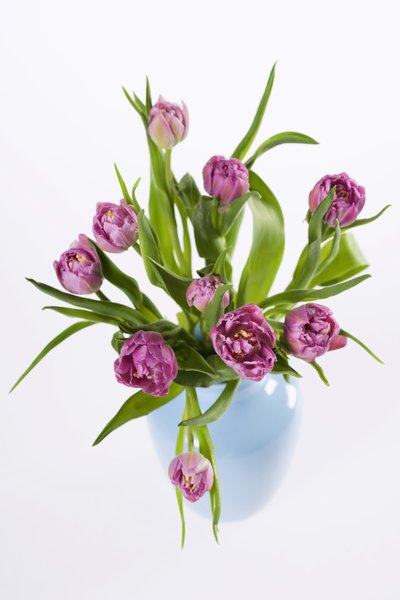 Iris
Iris varieties are commonly used in floral bouquets as a contrasting flower because of the brilliant shades of blue they come in. However, they also come in other colors like white and yellow.