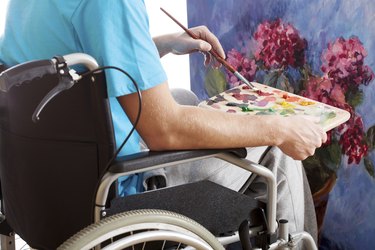 Art therapy can give disabled adults a sense of personal accomplishment, whether they have a mental, physical or emotional disability. Art projects can help to improve a person's outlook on life, give voice to unexpressed emotions -- especially for those with developmental disabilities -- or provide a way to make some extra money selling artistic works. When Pablo Picasso said, "Art washes from the soul the dust of everyday life," he wasn't just referring to art's beholders, but those who create it as well.
Visual Impairments
Visually impaired people can benefit from art projects that present them with tactile or sensory stimuli. Creating small sculptures from clay or making coiled pots or mugs offers a direct hands-on experience. Allow the artists to use gray and red clays together to create contrast with a bit of color. Other projects for visually impaired people include making collages by cutting out pictures from magazine with safety scissors and gluing them onto card stock or cardboard. Some drawing materials, such as oil pastels, leaves a raised surface on the drawing that also delivers a tactile stimulus.
Emotional and Mental Health Issues
The psychological benefits of art therapy can help disabled adults who have emotional and mental health issues express themselves. Painting projects that use acrylics, watercolors or even tempura paints encourage disabled adults to work through painful emotions, when they learn to paint what they feel. To warm up the artists, discuss various colors and how colors can relate to feelings. With some soft classical music or jazz playing in the background, have the artists draw or paint what they feel when they listen to the music. Or, have them express a particular emotion through a painting or drawing.
Physical Limitations
A program that teaches disabled adults how to paint with their mouths or feet not only lifts spirits, it gives them a sense of purpose and personal accomplishment. Set up art easels that hold sheets of paper for artists to paint on geared to wheelchair height; these materials are inexpensive, but allow the artists to practice different paint strokes and techniques. Set up a simple tableau such as a vase full of flowers or other still-life groupings. Give artists their own paintbrushes they can keep.The Mouth and Foot Painting Artists' organization provides evidence that artists not only paint pictures with their mouth and feet, but make money selling them.
Special Considerations
When coming up with art projects for the disabled, keep projects simple and easy to complete. Tailor the tools and supplies to the individual or group's ability to comprehend their uses. For instance, for developmentally disabled adults, ensure that you provide them with nontoxic products, because these folks may put them into their mouths. Offer safety scissors for those not so nimble with their hands, but keep sharp objects away from those with behavioral issues who may inadvertently harm themselves or others.