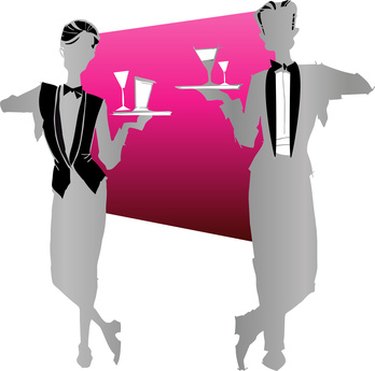 Each year thousands of young and talented singers and actors come to New York City in the hopes of making it on Broadway or in the recording industry. Between auditions, some of these hopefuls wait tables at the many restaurants in New York City. Restaurants with singing waiters are a long running New York tradition. Between serving, the wait staff either sing or perform shows to entertain the guests. The waitress with the lovely voice today could very well be tomorrow's newest Broadway star.
Ellen's Stardust Diner
Ellen's Stardust Diner is located in the heart of the theatre district. Step back in time and dine in an authentic diner setting, complete with 50's memorabilia, neon lights and chrome and vinyl booths. Enjoy a cheeseburger and shake, served by a waitress in poodle skirt. The wait staff take turns singing hits from the '50s and '60s, inviting patrons to sing along. Ellen's Stardust Diner is a great place to take the entire family and is open for breakfast, lunch and dinner seven days a week.
Elllen's Stardust Diner 1650 Broadway New York, NY 10019-6833 212-956-5151 ellensstardustdiner.com
Lucky Cheng's
Lucky Cheng's offers a dinner and interactive drag show experience. For $32, as of February 2010, enjoy a three-course Asian meal and drag show where your "waitress" will sing and dance in a fun and raunchy review. Lucky Cheng's is a popular place for bachlorette and birthday parties and gets quite lively on the weekends. Shows run continuously nightly. After the last show, stay for karaoke and drag queen bingo. Lucky Cheng's features live band karaoke on Saturday nights.
Lucky Cheng's 24 1st Avenue New York, NY 10009 212-995-5500 planetluckychengs.com
L'Orange Bleue
L'Orange Bleue is a small cafe where the staff breaks out in song whenever they feel like it. This cafe feels less like a restaurant and more like a house party. Monday evening is Brazilian drum night, with dancers, singers and...drums. The fare is North African mixed with whatever else the chef wants to add to the menu for the evening. The cafe is open daily until midnight for lunch and dinner.
L'Orange Bleue 430 Broome Street New York, NY 10012 212-226-4999 lorangebleue.com?
Johnny Rocket's
With locations across the U.S. as well as internationally, this branch of the Johnny Rocket's restaurant chain is located in Greenwich Village, adjacent to New York University's campus. Popular with students, Johnny Rocket's serves up burgers, hotdogs, fries and colas in a 50's diner setting. Between burgers, the wait staff break into choreographed song.
Johnny Rocket's 42 East 8th Street New York, NY 10003 212-253-8175 johnnyrockets.com