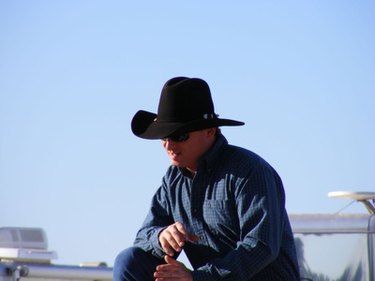 For that person in your life that is a little more "blue-collar" than the rest of them, they deserve a good redneck gag gift. The term "redneck" was originally used to refer to certain people in Appalachia, the Ozarks and the southern part of the United States. It is now a stereotypical term to describe people living in rural areas or trailer parks that like beer and live life as an all-American free spirit.
Fartless Outhouse Gift Set
This gift consists of a small-scale outhouse that comes with the dry ingredients to make chili and a roll of toilet paper. Include a note with the gift explaining the connection in order to generate laughs when the recipient opens it.
Redneck Survival Kits
Perfect for the outdoorsy redneck, the Redneck Survival Kit comes with everything needed to make it in the world. Instead of all the gift elements being placed in a basket, they are in a pail. Items in the pail include spicy popped wheat, popcorn that's camo-colored and flavored like a root beer float, a bag of dehydrated water that you fill with real water to reconstitute it, wood on a cord, a redneck flashlight (a wooden stick with a match attached to the top of it), and a "BS" bag to talk into and use as fertilizer.
Beer Belt
The beer belt comes with an expandable waistband and, not just one, but six beer-can or bottle holders built into it. The cans or bottles simply snap into the holders. Beer belts are also sold in an insulated version.
Beer Box Cowboy Hat
For the redneck that's also earth-friendly, get him a cowboy hat made out of his favorite brewing company's 12-pack box. These hats are made from real beer boxes and are specially coated with moisture-proof materials.
Redneck Weather Forecaster
Help the redneck honoree know what the weather is like with a weather rope. A length of rope is tied to a sign and placed outside. The sign helps a curious person know that moment's exact weather conditions: if the rope's wet, it's raining; if it's white, it's snowing outside; if it's gone, it's way too windy outside.
Dust Mop Slippers
For those who have a bad back or think cleaning the floors is too much of a hassle, get her dust mop slippers. All the new owner of these slippers needs to do is place them on the feet and wear them around the house. By using dust mop slippers, the redneck honoree will have her hands free to do more important things.