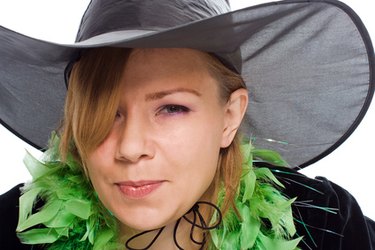 Dressing up for Halloween at work can be tricky. You want to show your clever creativity without insulting or offending clients and coworkers. Collaborative costume efforts are helpful in getting a whole department in on the fun and making a big impact. Individual costumes offer a bit more variety and allow you to take all the praise for yourself for your good efforts. No matter if you need a group costume or an individual idea, your office Halloween costume should inspire laughs and still allow you to get some work done.
Crayon Box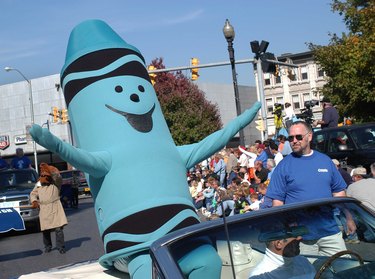 If you have a large department of from six to 12 people, encourage staff to coordinate costumes for maximum effect. A box of crayons is an idea that everyone can relate to and putting together the costumes could be an enjoyable team-building event. Make costumes from different colored felts cut in large rectangles to serve as the crayon wrapper, while black felt letters "brand" the crayon with the color and manufacturer's logo. Felt colored cone hats complete the individual crayon costume. The group can move together through the halls in cardboard crayon box replica you make as well.
Office Show Theme
Whether it's "Office Space" the movie or "The Office" television series, there are several crazy characters, episodes or events you can recreate for your office Halloween costume. For an "Office Space" costume, consider the annoying boss character "Bill Lumbergh," the copy machine hating "Lawrence" or the quirky red-stapler having "Milton." For a costume from "The Office" television series, dress up like the slick-haired "Michael," paranoid "Dwight" or up tight "Angela." Get the whole staff involved to make the day even more interesting.
Office supplies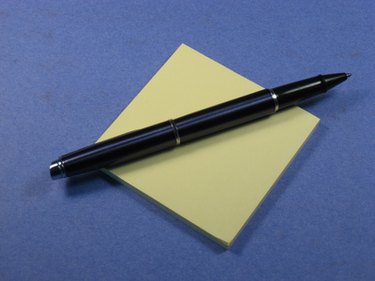 Go with an office supply theme to test your creativity and inspire laughs on your Halloween workday. Dress up like a piece of notepaper or cover yourself with giant colored poster board squares to mock sticky notes. Wrap yourself in orange felt to resemble a number 2 pencil or create a costume to make you look like a flash drive.
Work-Related Costumes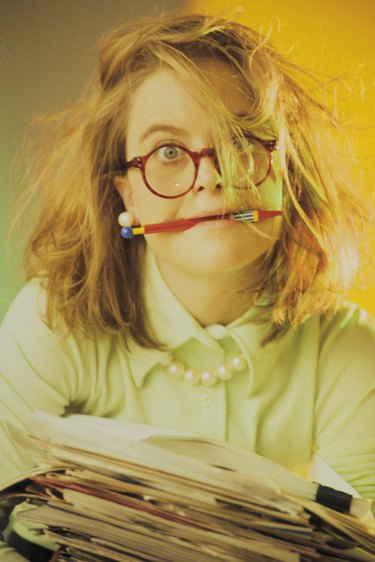 Play-on-word costumes are groan-worthy and hilarious to both put together and to entertain your fellow staff members. Dress up in wrinkled clothes with your hair a mess to come as "Late for Work," or wear a pink slip over a T-shirt and jeans to be a "pink slip." Walk around with doll heads tied to your waist to be a "head hunter" or wrap yourself in tin foil to mimic the "forgotten lunches" that fill your work fridge. Use your imagination to create crazy and funny costumes to relate to your specific work culture.