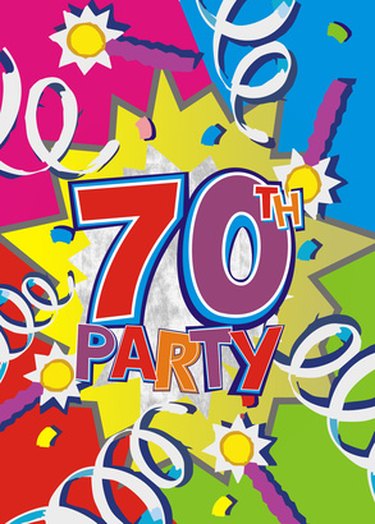 The 70th birthday is truly a milestone year, and there are a number of funny gift ideas that can brighten the day of the septuagenarian in your life--whether it's your parent, grandparent, uncle, aunt or friend. Help make him feel forever young through the joy of laughter.
In Dog Years, I'm Dead
If the recipient has a morbid streak, a hat featuring a cartoon dog playing dead and the slogan "In dog years, I'm dead" is sure to crack a smile. Gifts.com says, "Forget the slogan, 'Over the Hill.' 'In Dog Years I'm Dead' really hammers home the idea that you ain't gettin' any younger."
It Took 70 Years to Look This Good
A T-shirt that states what may be obvious to the birthday girl: "It took 70 years to look this good" is a can't-miss on the big 7-0. The design comes in multiple colors and cuts and typically costs between $20 and $30 at most online retailers.
Age Improves with Wine
For the senior wine aficionado, a sign that says "Age Improves with Wine" is a perfect gift to hang over a bar area or liquor cabinet. Most people are familiar with the fact that age improves wine, but this sign shows the newly christened 70-year-old that getting older can be easier with a delicious glass of vino.