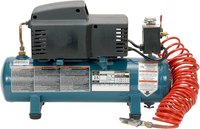 Sitting in the dark during a power outage may be the first time you realize the importance of a home generator. Home generators can either be portable or stationary and are rated by wattage. Determine your "running load" by totaling the watts of the appliances you want to run before choosing a generator. Include "surge wattage" in your calculations for an appliance with a motor, such as a refrigerator or freezer. Multiply your motored appliance wattage by three; this will determine the watts needed for surge protection. Some generators offer inverter technology, which protects sensitive electronics from surges and provides a continuous clean power source. Those generators listed as non-carb compliant may not be for sale in some locations.
Honeywell HW2000i
ConsumerSearch.com considers this small portable generator to be one of the best in its class. With just 2,000 watts (2,100 surge watts) this generator offers inverter technology for sensitive electronics. An "economy mode" that regulates the speed of the engine to the number of electronics being powered enables this unit to save energy. The Honeywell HW2000i has just two AC outlets. Although it is referred to as a home generator, this little unit weighs only 62 pounds, which makes it very portable for alternate uses. It is carb compliant.
ETQ TG32P12
GaltTech.com recommends this small, portable, 3,250 watt (4,000 surge watts) gas-powered generator, which runs on a four-gallon fuel tank for 13 hours at 50 percent load. Its seven-horsepower, four-cycle engine is rated at 65 decibels, making it a quieter choice than some of its counterparts. The ETQ TG32P12 has two 120-volt outlets and one 240-volt outlet. It weighs in at around 112 pounds and is not carb compliant.
Briggs & Stratton Elite Series 30242
Also favored by GaltTech.com is this portable, electric-start, 11-horsepower gas generator. With 6,200 watts (8,750 surge watts) and a seven-gallon fuel capacity, it offers 13 hours of run time at 50 percent load. Contained inside the generator is a power surge alternator, which protects fine electronics from power surges. It possesses five weather-protected outlets for easily plugging in appliances. A "Super Silencer" muffler makes this generator appealing if one of your criteria is noise reduction. In addition, it offers wheels that will never go flat. This generator weighs in at about 163 pounds and is not carb compliant.
Generac 5734 GP Series
According to ConsumerSearch.com, Generac has earned a Good Housekeeping Seal for its GP Series generators. This portable, electric-start, 15,000-watt (22,500 surge watts) gas-powered generator runs on a 16-gallon fuel tank for 10 hours at 50 percent load. It is deemed quiet for its size range due partly to its automatic idle, which can be adjusted to four different speeds. This feature also lowers fuel consumption. Lacking an inverter, this generator may not be appropriate for sensitive electronics, such as computers or televisions. This generator provides a 12-volt outlet and eight AC outlets. For convenience, the Generac 5734 has fold-down handles and a built-in fuel gauge. This unit weighs around 240 pounds and is not carb compliant.