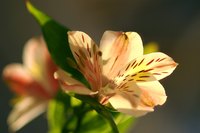 Dozens of perennials will grow in clay soil. From self-seeding wildflowers like rudbeckia to shade-loving foliage plants like lungwort, clay-tolerant perennials are often easy to grow if you pay attention to their needs. "The best" choice will depend on the plant's other needs -- amount of sun, moisture, drainage and space; and the gardener's preferences -- blooming season, flowers vs. foliage, color and size.
Full Sun to Mostly Sunny
Day lilies (Hemerocallis), are tough, sun-loving plants that thrive in just about any soil, including clay. They come in many warm shades, white through dark red. Their primary blooming period is early summer; ever-blooming varieties like Stella Doro bloom all summer. Some varieties can tolerate half shade.
Asters are durable and long-lived and come in a wide variety of cool and warm shades. Their daisy-like flowers offer the best choice for masses of autumn color in clay soil.
Heliopsis, one of the sunflowers, is extremely easy-care and long blooming. It blooms only in yellow, summer to fall.
Purple cone flower (Ecinacea), which is more pink than purple and also has white and yellow varieties, will bloom in the hottest summer and into fall, long after other flowers have faded away. Gail Delaney, gardening editor for Bella Online, says cone flower's sturdy roots can actually break up hardened clay soil.
Brown-eyed susan or Denver daisy (Rudbeckia) thrives on weedy, vacant lots and along roadsides, and provides exuberant yellows and bronzes in the garden from early summer to early fall. Individual plants last only a couple years, but they self-seed profusely, even in clay soils.
Sedum is a ground cover that grows only three or four inches high. It has varieties with pink, purple and yellow flowers that bloom in summer. Unlike other succulents, which prefer sandy soil, sedum can grow in sandy, normal or clay soil.
Sun and Shade Tolerant
Brunnera is short with heart-shaped leaves and blue flowers that bloom in early to late spring. It does not do well in direct sun, but thrives in sun-dappled shade.
Foxglove (Digitalis) presents tall flower spikes in warm shades from ivory yellow to maroon. It blooms in late spring to summer.
Cranesbill or hardy (or perenniel) geranium (Geranium) provides mounds of blue, white or purple flowers in shade or mottled shade. It blooms in late spring to summer.
Bell flowers (Campanula),in the taller varieties in particular, are suited to clay soil. The white, blue or pink flowers bloom in early to late summer. These are relatively easy to grow and have sturdier stems than other tall flowering perennials such as delphiniums.
Lungwort (Pulmonaria), with its white- or silver-spotted leaves, is prized as a foliage plant, but the flowers are worth the choice as well. Varieties of pink and light to brilliantly bright blue bloom in early to late spring.
Problem Solvers
Yellow archangel (Lamiastrum) grows in full sun to full shade. It is valued as much for its green and ivory foliage as it is for its small yellow flowers that bloom in spring to late spring. It tolerates dry shade (although it needs more water if it is in full sun) and is an excellent ground cover.
Cardinal flower (Lobelia cardinalis) blooms bright red in late summer or fall. It is very tolerant of wet, boggy conditions and is a good choice for trouble spots of standing water, clay soil and full shade, where few other plants will grow.