The holiday season is upon us, and with that comes the big holiday season decision: to tree or not to tree! We've gathered ten examples of trees both real and made that will push your creativity and bring all those warm Christmas feelings to your home. Choose your favorite, and get ready to fall in love with Christmas trees all over again!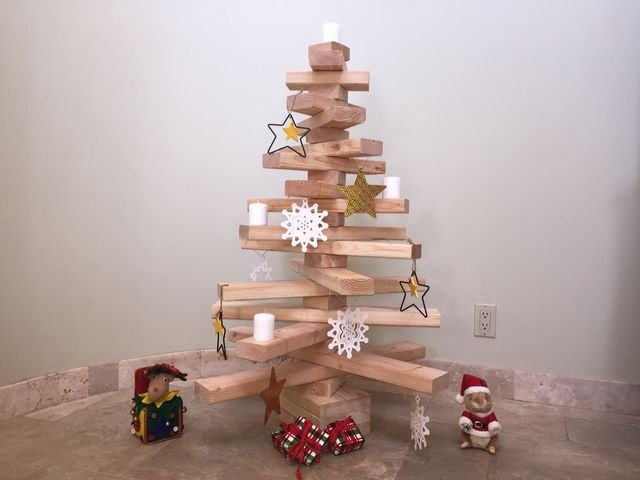 (eHow.com)
If you dislike real trees, happen to be good with a hammer, and love the idea of a unique tree that can be used over and over again, skip the lines and build your own! You could paint it or leave it plain, get to decide exactly how tall it is, and impress everyone who comes over for holiday festivities!
eHow.com
Wooden Christmas Tree
With its bright colors and fun candy ornaments, this tree is perfect for a playroom or children's bedroom! You could even take it a step further and hang crafts or Christmas artwork that comes home from school. This is a great kids activity for the holidays and a perfect opportunity to let them go wild with their decorating!
http://www.centsationalgirl.com/
Bright, Whimsical Tree
This is another tree-less tree option, and certainly easier than building your own. All you need is a wooden (metal, especially vintage metal, would look beautiful as well) ladder, some lights, ornaments of your choice, and you've got your Christmas tree. It has plenty of room for presents underneath, and the set-up/clean up process will probably take half the time (if that!).
http://tatteredstyle.blogspot.com/
A Ladder Christmas Tree
Book pages can be used for any number of crafts and projects, but this is a perfect way to incorporate them in your Christmas decor. A similar alternative is to use whole books, but this version doesn't run the risk of toppling over. The materials for this one can be cheaply found at thrift stores or even old books in your home that may be falling apart. To add some bling, you could lightly spray paint the pages with gold or silver.
http://www.thewonderforest.com/
Book-page Christmas Tree
Rustic decor has made the jump from trendy to classic in the past few years, which means that burlap and country/woodsy ornaments aren't hard to find. Get your country on with this beautiful tree!
http://meganbrookehandmadeblog.com/
Rustic Christmas Tree
This may be the most budget-friendly "tree" on our list, as it's made of branches that can be found in parks, wooded areas, or even your own backyard. Another option is to go to your local Christmas tree seller and ask if they have any branches they throw away at the end of each night. With branches, a pot or urn (you can get creative with the base), lights, and ornaments, you can make your own unique "tree."
http://www.astylishinterior.com/
A Tree Made of Branches
Harry Potter, Dr. Who, Nightmare Before Christmas, Star Wars, and Chronicles of Narnia are all options that have more than enough merchandise available to theme a tree, and if you're a big fan, you probably already have some things you could use. This option allows for lots of creativity and room to emphasis your favorite parts and characters. If you're a Potterhead, a Hedwig-topped tree might just be the next best thing to celebrating in the Great Hall of Hogwarts.
http://www.genx-nostalgia.com/
Harry Potter Tree
Perfect for small apartments or maxed-out spaces, the options are endless with this one. You can use decals, chalk, sticks, wrapping paper, or simple Christmas lights to make a "tree" without sacrificing any living area at all!
http://www.behindthebiggreendoor.com/
Wall Christmas Tree
Maybe you want colorful and your roommate or partner wants neutral. The ombre tree allows you to incorporate several colors while maintaining blog-worthy decor style. White to navy blue would be beautiful, or you could go brighter with a citrusy color on a white tree.
http://www.younghouselove.com/
Ombre/Gradient Christmas Tree
This DIY project is not for the beginning crafters out there, but it's well-worth the effort. Suspended your ornaments by wire in a tree shape and wow your friends and family with this gravity-defying holiday set-up.
http://www.notmartha.org/
Tree Mobile
Promoted By Zergnet