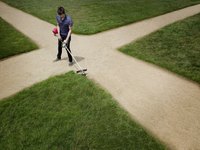 Residential and business grass cutting services are highly competitive and mostly unregulated. A teenager with a lawnmower can walk around a neighborhood and solicit customers, or it can be part of the package that a full service landscaping company offers. A grass cutting service needs to know how to price their jobs so that they can make the money they desire, and how to increase the business so that they don't experience a shortfall at the end of the period.
Pricing the Job
The industry standard pricing is "a dollar a minute" for jobs, starting from pull-up time at the curb and ending with slamming the back of the pickup truck when the gear is stowed away. However, this is not a good way to price a bid. A two-hour, $120 job may only take you 90 minutes with new equipment, meaning you will lose $30 for the same job for upgrading your equipment.
Variables
Variables that influence how much a service charges include the gas rates are in the region, how far they have to travel to reach the site, special considerations such as trees or other obstacles, the size of the lot, the necessary equipment and the prevailing rates of other lawn services. A larger service may not be able to underbid the neighborhood teen who'll do a yard for $20.00 and a Coke.
Discounts
Offer the customer a discounted package deal for an entire seasons commitment to keep steady business as long as the discount doesn't cut too deeply into the profit. A way to price it to avoid the customer getting the discount even if he cancels before the time is up is to give a free lawn maintenance after several have been done at the full rate. This way, if the client cancels early he has still paid the full amount for the work that was done. Or you can offer a discount for referrals that turn into clients.
Improving the Bottom Line
Upselling, or encouraging the client to add more expensive services to the job, is a way to increase your income without finding new clients or greatly increasing the time on the job. If the city charges to haul away lawn debris, you may offer to haul it away cheaper. Hedge trimming, tree pruning, garden weeding or other light landscaping tasks may be needed. Providing rototilling in the spring and fall, leaf raking, gutter cleaning or snow removal can all extend the income to a four-season opportunity. Corporate trainer, Jeff Mowatt, says that upselling is one of the best and most productive uses of your time.