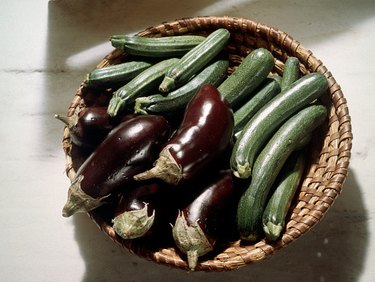 Zucchini is a wonderful treat in the summer, but it can be difficult to find in the winter months. There are other vegetables that you can use as substitutes. No matter how you like your zucchini, there is a substitute that will work in its place. Different substitutes serve different purposes, but will all yield a tasty end product.
Yellow Squash
Yellow squash is very similar in taste and texture to a zucchini and makes a great substitute in stir-fry and other similar style dishes. Yellow squash can be sliced in rounds or slivers just like a zucchini. Sauté yellow squash with butter and onion or use it in soup. You can even use yellow squash as a substitute in zucchini bread.
Eggplant
Eggplant tastes similar to zucchini but has a softer texture. Eggplant pairs well with Italian dishes. Substitute eggplant for zucchini in a vegetable lasagna or sauté it with some butter and onion as a side dish to go with chicken or beef. Also use eggplant slices on a homemade pizza.
Patty Pan
Patty pan squash can go by different names -- white squash, button squash or scallop squash are just a few. There may not be as many uses for a patty pan squash as there are for a zucchini, but it is often a suitable substitute and, like zucchini, tastes great on its own. Layer some patty pan squash in an oven safe baking dish with some freshly chopped basil, some butter and a little bit of sea salt. Bake the squash for 30 minutes at 350 degrees.
Pumpkin
Follow a recipe for zucchini bread, substituting the zucchini with pumpkin puree. Make your own pumpkin puree and use it for soup and bread. Small pie pumpkins have the best flavor. Cut off the top of the pumpkin near the stem. Halve the pumpkin and scoop out the seeds and pulp with a spoon. Cut each half in half again and roast them on a baking sheet for 45 minutes at 350 degrees or until the pumpkin is tender enough to poke with a fork. Peel the skin off the pumpkin and mash the meat or puree it in a blender.