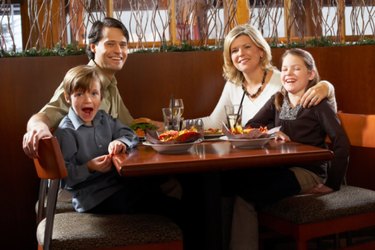 A restaurant serves many functions; it's a gathering spot for family and friends to celebrate special occasions; a conference room for business deals negotiated over lunch; a romantic hideaway for couples on first dates; and a hangout for regulars to grab a favorite sandwich or bowl of soup. Dining out is on the rise and meals away from home account for half of total food expenditures, according to a 2004 survey by the U.S. Department of Agriculture. Consumers are discovering many advantages to eating at restaurants.
Communication
When dining at home, family members might grab a quick meal as they hurry about their separate activities. Dining out gives a family the chance to prolong the dinner hour and spend more time together. A restaurant can be good place to get away from household chores and focus on communication with family and friends. Likewise, co-workers and business associates can escape workplace distractions and talk while they eat at a restaurant.
Convenience
If you don't enjoy cooking, the pressure is off at a restaurant. Even if you like to cook, it can be nice to take a break and let someone else deal with purchasing ingredients, finding recipes, cooking and cleaning up the kitchen. Dining out is convenient, particularly if you live near a variety of restaurants. While it may be less expensive to cook your own meals, dining out occasionally is a welcome treat. It might also inspire recipe ideas you can try at home.
Health
The debate about the effects of dining out on obesity and health problems has spurred many restaurants to offer healthier food choices. A 2010 federal law requires large restaurant chains to show calorie amounts for their menu offerings. Restaurant menus vary, but some provide additional information that can help diners choose healthy options. For example, a menu may highlight meals that contain no trans fats or offer gluten-free dishes for patrons with special dietary needs.
Variety
Restaurants can introduce diners to different cultures through food, music and décor. They also give diners a chance to eat foods they might not fix for themselves because it is difficult or expensive to make. For families with diverse tastes, the variety of a restaurant menu might offer something for everyone. Some people like to order their usual favorites at a restaurant; others are more adventuresome and enjoy trying a variety of dishes.