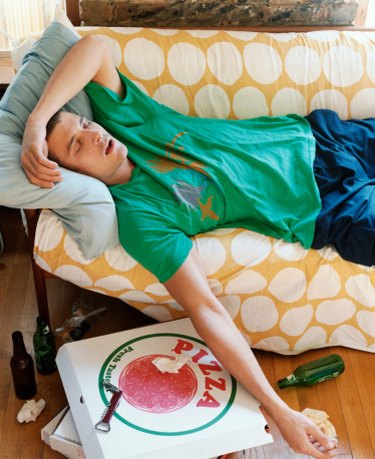 It's hard enough to buy a gift for any man, even men who have hobbies and interests. But Father's Day, birthdays and anniversaries can be agonizing occasions to buy gifts if the guy you're buying for generally does nothing. Once you remove memorabilia, sporting goods, travel and hobby gifts, you might wonder what there is to choose from. But don't despair, usually men who do nothing like to relax. They also have to eat, drink and most likely….wear clothing.
Relaxation Gifts
Guys who do nothing often excel at relaxation and might appreciate gifts that promote stress-reduction. Aromatherapy isn't just for women. Consider giving aromatherapy candles or an oil-burner or diffuser along with some essential oils such as eucalyptus, lavender or spearmint. Other suggestions to help him remain relaxed include a hammock, foot and calf massager, reclining chair or gift certificate for a massage.
The Gift of Fine Wine
Pick up a bottle of wine or consider paying for him to receive monthly wines from a wine of the month club. There are several online sites to choose from that deliver door-to-door service. Some sites specialize in domestic wines, others in international wine. If your guy isn't a wine connoisseur, he might enjoy a microbrew of the month club.
Gourmet Food
Many men, even those who seem to do nothing love to eat. Sites such as iGourmet or Gourmet Grocery Online offer a large variety of monthly clubs. For instance, you can pay for him to enjoy a year's worth of monthly desserts, cheeses, olive oils, meats or salsas. If a year's worth of giving seems like too much of a commitment, prepare his favorite meal as his gift. He can continue to do nothing while you do the cooking and the cleanup.
Clothing and Accessories
Apart from the usual underwear and socks, and depending on the type of relationship you have with the man you are buying a gift for, apparel is a dependable option for gift-giving. A light jacket, hoodie or sweater is often something most men can use in their closet. Other options are casual sweatpants or a sweatshirt. If you aren't sure of his size, get him a watch, tie or belt. Make sure he can exchange the gift if he would prefer a different size or color.
One Size Fits All
If you don't have much time to shop and are really at a loss as to what to get for your guy, select a gift card from an appropriate store. In other words, don't get him a gift card from a book store if he never reads. You are unlikely to go wrong with a Visa or Discover gift card. Most stores accept both and your man can use it to purchase exactly what he wants.