The Indiana Foodways Alliance identifies 19 culinary trails in a state where old-timers call green bell peppers "mangoes" and the area's ​signature sandwich​ features a pork cutlet that's three times the size of its bun. Cruise the Distillery or Soda-licious trails to satisfy your need for Indiana drinks, or try local produce on the Farm to Table trail. End your day with a slice of ​sugar cream pie​.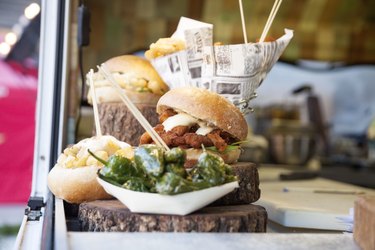 Sugar cream pie and ​pork tenderloin sandwiches​ – the first is an official Indiana state food and the other might as well be – are notable elements of a Hoosier diet. Sugar, flour, cream and a touch of vanilla combine to make ​sugar cream pie​, a desert introduced to the state by Amish and Shaker residents. Boneless pork pounded thin and dredged in flour before being fried is served on a hamburger bun at restaurants across the state.
The Amish also introduced ​chicken and noodles​ served over mashed potatoes to northern Indiana. This simple comfort food stars homemade noodles and chicken cooked in broth and ladled over mashed potatoes. No gravy required.
An Indianapolis deli served its first ​Roast Beef Manhattan​ in the 1940s. Known elsewhere as a open-faced sandwich, or a hot roast beef sandwich, the Manhattan is sliced beef served on white bread, sliced and plated with a dollop of mashed potatoes in the middle. The hearty sandwich is then covered in gravy.
Add the Hoosier version to the nationwide ​chili​ debate. The controversy comes not from the beans versus meat only crowd, but from those who think spaghetti has no place anywhere near a bowl of chili. While Cincinnati is better known as the originator of this style of the spicy dish, Indianans have embraced it, replaced tomato sauce with vegetable juice and placed themselves firmly in the bean camp.
Now owned by agricultural giant ConAgra, ​Van Camp's beans​ were first sold in Indianapolis in the late 19th century. The founders distinguished their beans from Boston baked beans by canning them in tomato sauce.
In 1899, Francis and Herman Hulman, immigrants from Germany, first sold ​Clabber Girl​ baking powder in Terre Haute. The first floor of the company headquarters houses a museum, coffee roaster, bakery and cooking school.
Fans of the television show "Mad Men" will recognize the name ​Burger Chef​. The ground-breaking fast food chain started in Indianapolis in 1958. By 1967, Burger Chef was the second-largest chain in the country and the fictional Don Draper and associates were creating ad campaigns for them. The founders patented the flame broiler, and were the first to offer a kid's meal.
Comfort food is on the menu at ​MCL Restaurant​ & Bakery, a chain of cafeteria-style eateries established in Indianapolis in 1950. While most of the locations are in Indiana, you can also sit down to a meal of fried chicken and mashed potatoes in Illinois and Ohio.
Tipton County ​Pork​ Festival: Held in September, the Tipton County Pork Festival features a "pork court" with vendors selling chops, pulled pork, ribs and pork burgers. Two stages with live music, parades, beauty pageants and an arts and crafts show round out the entertainment.
Valparaiso ​Popcorn​ Festival: For more than 40 years the citizens of Valparaiso have gathered to celebrate the corny snack. A Popcorn Parade, arts and crafts, food booths and family-friendly attractions lead the entertainment in this one-day September event.
​Pierogi​ Fest: Mr. Pierogi, Polkahontas and the Pieroguettes wander the festival grounds of this July event in Whiting. Filled dumplings are the food star, but a wide range of vendors serve Hoosier cuisine from savory to sweet. Visitors can take a break in one of the beer gardens, watch a lawnmower parade or buy local crafts.
Parke Country ​Maple Syrup​ Festival: This late February/early March event in Rockville celebrates the beginning of the maple tree tapping season. Watch syrup-making demonstrations, have a country breakfast or take a drive into the country to see covered bridges.