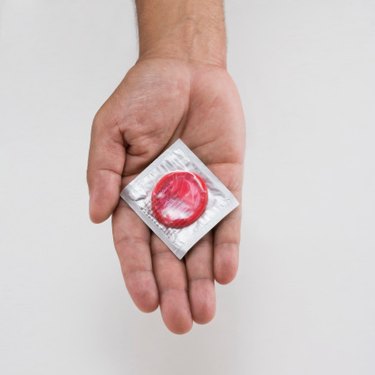 Condom crafts are most suitable for young adults. Put together a flower bouquet for your next bachelorette party or girls' night out. Condom balloon animals or condom jewelry can be an amusing way to pass the time. Make a condom stress ball that you can use at home or at the office; nobody will realize it's made from a prophylactic.
Condom Flowers
A bouquet made from condom flowers would be a whimsical gift for both men and women. You can use condoms in red wrappers, to represent roses, or simply go with a variety of colors. Choose the favorite condom of the person you are giving it to. You can make an entire bouquet in about 10 minutes, so it is a quick and simple gift. Fold a packaged condom in half diagonally. Slip a wire in the middle and wrap tape around the bottom to hold it in place. Put two more condoms around the first in the same manner. Wrap the taped area and the wire stem in green floral tape. Then make several more flowers for an entire bouquet.
Condom Balloon Animals
Making condom balloon animals is a playful addition to a co-ed party. Take the condom out of the package and unroll it. Lay them out on the table for people to choose their own color. Basic condoms are the best for this project, as you want the latex to be smooth. Blow the condom up like a balloon; you can fill it as full as you want. Begin twisting the balloons into different shapes. Once it looks the way you want, make facial features on the condom with a permanent marker. Have a contest with your friends to see who made the best condom balloon animal.
Condom Jewelry
Condom jewelry typically stays in the packaging, as the condom itself is too fragile to make into jewelry. For necklaces or earrings, punch a hole in the corner of the package. Thread a chain through for a necklace or put earring hooks through the holes. For jewelry that is less obviously a condom, paint the package before assembling. You can make wearable pins by hot gluing a safety pin to the back of the condom package. Painting the package is up to you as well. Wear the jewelry out on the town with your friends and see how long it takes them to notice what you are wearing.
Condom Stress Ball
You can squeeze stress balls in your hands or roll them along a desk. This gives your hands something to do while you are stressed, on the phone or just sitting around. Take a condom out of the package, unroll it and carefully spoon flour or cornmeal into it. Stretch the condom out while you fill it so it becomes very full. Once it is to a level you like, tie a knot in it. You can add words or pictures with a permanent marker.