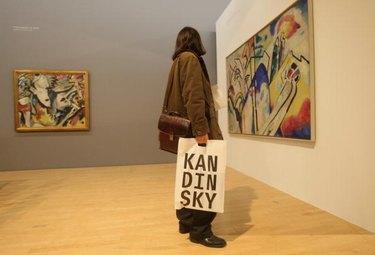 Wassily Wasilyevitch Kandinsky was born on Dec. 16, 1866, in Moscow. He was brought up in Odessa, where his father ran a tea factory and studied law at Moscow University, where he later became a professor. In 1896, after visiting an exhibition of French Impressionists, Kandinsky decided to become a full-time painter. He left Russia for Munich and studied art with Frank Stuck. He then spent five years traveling round Europe, painting, exhibiting and discovering colors, techniques and materials. Kandinsky became a key player in the evolution of abstract paintings.
A Study
At the Guggenheim Museum in New York City, an in-depth study of Kandinsky's techniques and materials was carried out by senior conservator Gillian McMillan. The findings appeared in the catalog for a major Kandinsky exhibition that celebrated the museum's 50th anniversary. Along with fellow conservators, samples of six iconic Kandinsky paintings were taken and analyzed. X-rays were used to determine the materials and binding media Kandinsky employed.
1896-1914
Kandinsky's early works were landscapes based on spots and lines of color. He painted with oils, either on canvas or cardboard, but he also used gouache ("Song" 1906) or tempera on cardboard ("Arab City" 1905). In 1911, he established a group called Blue Rider in which, according to the artist, "the accent was made on revealing associative properties of color, line and composition." An example of this period, Composition VII, is on display at the Moscow State Tretyakov Gallery, and is oil on canvas.
1914-1921
When World War II broke out, Kandinsky was forced to leave Germany and return to Moscow. He worked with the People's Committee of Education and as professor of art he designed a special curriculum based on color and form. He diversified into watercolors ("Bagatellen" 1916) and even painted on glass ("Two Girls" 1917) but by 1921, socialist ideals forced him to leave Russia and his art was banned.
1922-1944
Kandinsky returned to Germany and joined the Bauhaus movement. He introduced geometrical designs and circles into his work, ("Compositions VIII" 1923) but most frequently painted with oils onto canvas or cardboard. In 1931, the Nazi party declared his paintings "degenerate" and he was forced to move to Paris. Kandinsky was isolated in Paris and his paintings reflected this. Instead of primary colors his palette became subdued and chaotic designs became geometric. His favorite materials continued to be oil on canvas or cardboard.