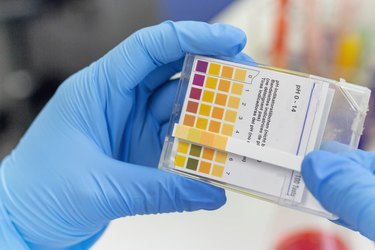 What does peroxidase do? The answer to this question is not straightforward. Pperoxidase is an enzyme found in various organisms and has many different functions. You can find peroxidase in organisms ranging from simple bacteria to humans and even plants. Several factors can change the nature of peroxidase, including pH balance and temperature. The primary function is to break down hydrogen peroxide, but this science affects many parts of our everyday life.
What does this all mean for your fresh produce? The enzyme peroxidase is responsible for the browning of produce, as you find in bananas, apples, pears and other fresh fruit and vegetables. You can take a few steps to prevent the enzymatic browning you see in your produce. Before you throw out that browning apple, you should know more about peroxidase. What is peroxidase, and what effect does it have?
In short, peroxidase is an enzyme that breaks down hydrogen peroxide. The primary function of peroxidase is to break down complex enzymes into simpler ones. Essentially, peroxidase enzymes will convert hydrogen peroxide into oxygen and water, breaking down the original hydrogen peroxide so it can be used in other functions. This breakdown is fundamental within the human body. Hydrogen peroxide is toxic, so converting hydrogen peroxide to oxygen is critical.
Hydrogen peroxide is a toxic compound if ingested. Drinking or ingesting hydrogen peroxide can cause various symptoms and disorders, which medical experts describe in detail. Hydrogen peroxide can cause caustic injury where the soft tissue in the throat and stomach are burned when in contact with it. Another concern is a gas embolism that creates tiny bubbles in your bloodstream, causing chest pain, difficulty breathing and disorientation. It can also cause lipid peroxidation, which is associated with kidney damage, Parkinson's disease and even asthma.
Enzymatic Browning From Peroxidase
While you may not know it by name, the phenomenon of enzymatic browning is a common experience. You have a delicious apple all cut and prepared, but the fruit has turned slightly brown when you sit down to eat it. While this type of browning is still safe to eat, it can be unsightly, especially if you're serving food to guests. The enzymatic browning is caused by introducing oxygen to the fruit compound. The oxygen reacts with the peroxidase and releases gases, causing the browning.
In other words, by damaging the cells of your fruit by cutting, the contents of the cells are released so that enzymes and molecules find each other and begin reacting. This whole process causes your freshly cut fruit to brown.
While this complex reaction can cause your food to be brown and look worse for the wear, it does not affect the edibility. You can still safely eat fruit that has turned slightly brown after oxidation. Browned fruit is not unsafe and does not indicate that the food has gone bad.
How to Stop Enzymatic Browning
There are a few ways to stop enzymatic browning from occurring and continuing to occur. There are a few effects of pH on peroxidase. A pH level measures the potential of hydrogen, and it is a measure of the acidity or basicity of a solution. The pH scale ranges from 0 to 14, with 0 being the most acidic and 14 being the most basic. Most enzymes have an optimal pH range in which they are most active.
In the case of peroxidase, the lower the pH, the better for stopping the browning. A pH lower than 4.0 can prevent the oxidation from starting. This means applying lemon juice or other citrus juice to a freshly cut apple will slow the browning. Alternatively, you can keep the fruit in a freshwater bath until you're ready to use it. One final way to slow or stop enzymatic browning is to keep freshly cut fruit in the refrigerator, as the colder environment works to slow the enzymatic reaction.