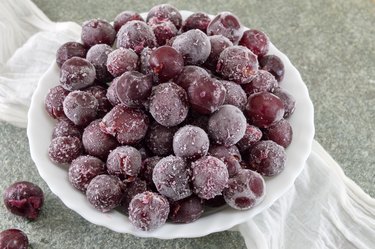 Different types of convenience foods are not hard to find: fresh, frozen, boxed or sealed in plastic wrap — there's an awful lot of food out there that's quick to make and easy to gobble at any time of day, whether you're at home or away. Groups of convenience foods can be found in nearly every section of every supermarket. But how much of it is healthy? With so many choices, why not pick something that's both tasty and good (or at least good-ish) for you?
Fresh and Easy from the Farmer's Market or Produce Section
You might not immediately think of fresh produce when describing a convenience food, but sometimes, the most convenient food is also the healthiest. The fresher the produce, the better the taste and nutritional value. When possible, take advantage of seasonal, locally-grown produce.
Farmer's markets are great fun. Take a few hours from your busy schedule and browse the stalls some weekend. Or, just check out the produce section of your supermarket. Depending on your location and what's in season, you may find apples, peaches, pears, oranges, melons and other fruits that just require a simple, thorough rinsing to be ready as a snack or for dessert.
In the heat of the summer, there's nothing more refreshing than frozen grapes. All you have to do is rinse a bunch of seedless grapes, dry them off with paper towels and put them into tightly sealed freezer bags before freezing. The grapes attain a different, almost sorbet-like texture, while the peels add a little crunch.
Vegetables are plentiful too, and many of them require a minimum of prep time. Steaming veggies in the microwave doesn't take long either. Other foods in the produce area include salad kits complete with dressing and toppings, mixed chopped vegetables for a quick stir-fry, single-meal whole-grain bowls, platters of ready-to-go crudites and other appetizers.
Swing by the salad bar to pick up more pre-cut veggies and accompaniments. Many supermarkets have an olive bar, where you can stock up not only on olives but also on such antipasto items as marinated mushrooms and artichokes, pickled peppers, roasted vegetables and more — just right for an impromptu cocktail get-together.
You can have meal-prep kits delivered to your door, with all the required ingredients included. But did you know that supermarkets are catching up with this trend — and usually at a lower cost? Ask the store manager if such kits are currently available.
Packaged Foods: The Good, The Bad and The Ugly
It used to be the case that health-conscious consumers had few choices when it came to packaged convenience foods. There were too many preservatives, bad fats and miscellaneous harmful additives in these foods, and it was difficult for folks to make informed choices. The selection of packaged food on your grocery shelves is now enormous, and much of it can form part of a healthy diet.
There are many minimally processed canned vegetables and fruits to choose from. Have baked beans on buttered, whole-wheat toast for an English-style lunch or use seasoned diced tomatoes for a quick pasta sauce, for example. Fresh turnip greens can be tough to cook, but canned greens are already tender.
Wild-caught tuna is available in both cans and pouches, packed in water or in olive oil. It makes a great sandwich on whole wheat bread spread with guacamole and a handful of bagged salad greens.
Instant single-serving oatmeal packets come in a variety of flavors and take only 2 minutes to microwave. You can even use the paper packet itself to measure the required water! Add a few teaspoons of chocolate chips or peanut butter to your oatmeal before you heat it for an extra flavor boost. Or, top the cooked oatmeal with applesauce, frozen fruit, jam, yogurt or ice cream.
There are plenty of easy fixes in the Asian, Indian and Mexican sections of the supermarket. Behold the dazzling array of sauces and relishes, which only need, say, the grilled chicken you already snatched up at the deli to make an impressive meal.
Buckwheat (soba) noodles are a quick, yummy substitute for regular pasta. They're nutritious, have a subtle nutty flavor, and they cook in literally 2 1/2 minutes. (If you follow package directions to cook them longer, you'll likely wind up with a gummy mess on your hands.) And they're gluten-free, too! You can serve the noodles hot or cold with just a little miso paste, soy sauce or tamari sauce, plus leftover veggies or whatever else you have taking up space in the fridge.
Refrigerated and Frozen Foods
The options available in the refrigerated sections of supermarkets can be overwhelming. In the dairy section, you'll find yogurt, puddings, cheeses, and a great many variations and combinations thereof. In other refrigerated areas, you'll find such easy-to-prepare foods as hard-boiled eggs; prepared side dishes and entrées; hummus, guacamole and other dips and spreads; fresh pasta; sandwiches, wraps, burritos and much more.
The deli counter has sliced-to-order meats and cheeses; vegetable, fruit and meat salads; specialty products like meatballs, BBQ ribs and casseroles – and don't forget the ever-popular rotisserie chicken.
The meat and seafood departments offer, not only good cuts of meat and fresh fish, but also ready-to-cook items like stuffed peppers, kebabs and sausages, as well as already-cooked pulled pork, jerk chicken and more.
There are so many frozen convenience foods it's hard to know where to start. First, get to know the various sections of your grocery's frozen goods department, so you can find any particular items you're looking for on later quick shopping trips.
Take note of healthier options, many of them relatively new. Cauliflower rice and broccoli rice are nutritious, flavorful, quick and easy. You can even get a frozen pizza with cauliflower crust at many grocery stores.
Frozen fruits can be delicious on their own, or you can whip up a lusciously thick smoothie by combining any frozen fruit combination, plain or flavored yogurt, and a little milk or juice, using an immersion stick blender.
Snacks and Sundries: More Convenience Foods
Snacks are the quintessential quick fix for hungry people on the go. Whether you're popping into a supermarket, the corner grocery or one of those combination gas station/convenience stores that line U.S. highways — you'll face bewildering displays of grab and go items like cookies, pastries, potato chips, popcorn, candy, pork rinds, beef and turkey jerky, nuts, crackers, and so on and so forth.
Some of the best snacking comes out of a bag or a box. Try air-popped or low-fat popcorn, low-fat tortilla chips, mixed nuts, dried fruit, trail mix or sunflower seeds.
Dark chocolate is a guilt-free treat — especially when it has a high percentage of cocoa. Protein bars and energy bars are good too, as long as they're not overloaded with calories. Steer clear of most packaged cookies and other baked goods; they tend to have more fat (included the dreaded trans-fat) and sugar than is healthy for you.
In the refrigerator cases, you're likely to find good-for-you goodies such as string cheese, single-serving hummus, yogurt, prepared salads and fruit cups. And, of course, there's fresh fruit on hand — even gas stations have bananas and apples, at least, and sometimes oranges as well.
A Note About Package Labeling
No matter how much of a hurry you're in to be finished with shopping and get home in time for dinner, always check the labeling information on any packaged food items — including how much of each nutritional component each serving contains and what percentage of the recommended daily value (%DV) it has.
The label should also include a list of ingredients, with the largest amount (by weight) listed first; take note of added sweeteners, such as high-fructose corn syrup and other additives. According to the U.S. Food and Drug Administration, it's best to keep saturated fat, trans fat and cholesterol as low as possible and keep track of both the amount and types of sugar you consume.
And last, but not least, do take a good look at how many servings the label claims are in the package — as opposed to how much you anticipate eating. Sometimes, the serving size is tiny, maybe to make the average buyer believe that the food is low in calories, fat and sugar when, in fact, it is not.