Redbuds (Cersis spp.) tend to be shrubby trees that get their name from the bright, usually pink, flowers that bloom before the heart-shaped leaves unfurl. The dozen or so species come from as far afield as the Mediterranean, Asia and North America. Use them to brighten otherwise dull areas of your yard.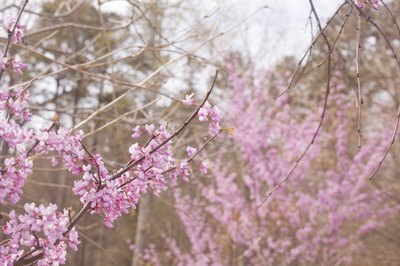 General Care
Generally small deciduous trees, redbuds make excellent features for landscaping projects as well as shrub borders. Redbuds grow best in full sun or dappled shade. They generally like moist, but well-drained soil and are tolerant of a wide variety of pH levels, so soil amendment is rarely needed. Any pruning should happen in the dormant seasons and should focus on removing dead branches and those that take away aesthetic appeal. Pruning from the bottom will provide a more treelike appearance. Soak pruning tools in a mixture of 1 part bleach to 3 parts water for five minutes before you start working on each tree or between cuts if you're pruning away diseased portions.
Eastern Redbud
In the U.S., most people know Eastern redbud (Cersis canadensis). This 30-foot tree has a rounded crown and a short trunk that divides low on the tree. It is native to the eastern U.S. and northern Mexico, and grows in U.S. Department of Agriculture plant hardiness zones 4 through 9. Some cultivars, such as "Alba" and "Texas White," produce pure white flowers. For season-long variety, "Forest Pansy" has scarlet or maroon leaves to complement its pink flowers.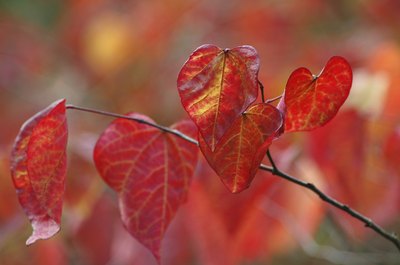 Western Redbud
The Western or California redbud (Cersis occidentalis) comes from California, Arizona and Utah and grows in USDA zones 7 through 9. It is considered a shrub or small tree, only reaching about 20 feet tall. It has magenta flowers that make way for magenta seed pods. With excellent fall foliage, and seedpods that stay on the tree throughout winter, it provides year-round interest. Western redbud requires less watering than others.
Shrubby Redbuds
Nonnative redbuds tend to have a more shrubby form. Chinese redbud (Cersis chinensis) is a light, open shrub with glossy leaves that grows to 12 feet with a 10-foot spread. The Judas tree (Cersis siliquastrum) comes from Europe and Asia and grows 25 tall and wide. They both grow in USDA zones 3 through 9.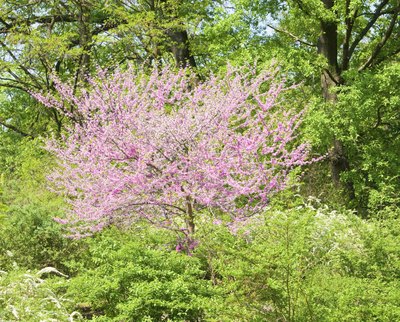 Keeping Redbuds Healthy
Redbuds have some pest and disease problems in common. Among the pests are weevils, caterpillars, whiteflies and leafhoppers. Treatment for these bugs is usually not necessary, as they only affect the current season's leaves and will die out before the next season. Canker is among the most destructive of the diseases, first showing up as leaf wilt with browning and later turning into black, sunken areas. It is a fungal disease that spreads and can only be treated by removing infected branches. Sanitize tools properly by dipping them into a solution of 1 part bleach to 3 parts water, then rinsing clean before pruning away cankered branches. Verticillium is another common disease that does not respond to treatments, but can be prevented by simple maintenance like trimming away dead wood and providing adequate drainage.