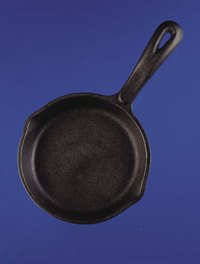 Unlike nonstick pans, traditional cast-iron or carbon-steel pans need to be prepared, or "seasoned," before use. Each manufacturer has its own recommendations for seasoning. In addition, there are a wide range of traditional seasoning methods, each more arcane than the last. One common seasoning process involves potato peelings.
Rustproof Coating
To minimize the danger of rust, cast-iron and carbon-steel pans leave the manufacturer with a fine coating of mineral oil. Although this helps keep the pan rust-free in storage, it must be removed before use. The seasoning process removes all traces of this rustproof coating and replaces it with a coating which will protect the pan from corrosion and be safe to cook with.
Preparation
Wash the pan and use a bristled brush to remove as much of the coating as possible. Cookware manufacturer Matfer Bourgeat recommends washing the pan in very hot water, using only a small amount of mild detergent. Wash the pan thoroughly and dry with paper towels.
Seasoning
Seasoning recipes vary, but potato peels are a common ingredient. Cookware manufacturer de Buyer recommends adding potato peelings -- enough to cover the surface of the pan relatively evenly -- to the pan with a cup of water. Boil for about 15 minutes, after which the pan is ready to absorb its new coating. Discard the potato peelings and rinse the pan. Apply a coat of cooking oil and let it sit for a few minutes before discarding it and wiping the interior of the pan with a paper towel.
Maintenance
After seasoning, pans need periodic maintenance to help them retain their coating. Manufacturer de Buyer recommends filling the bottom of the pan with cooking salt and heating it for 90 seconds, then applying a new coat of oil to the inside and wiping it dry with a paper towel before returning the pan to storage. Cast-iron or carbon-steel pans should never be left to soak, or washed in a dishwasher.