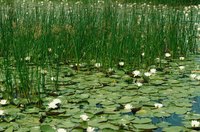 Reed grasses are tall plants that belong to one of seven families of grasses in the order Poales. They are typically found in wetlands and often have hollow, jointed stems. Because of their structure, some types of reed grasses were once used to produce arrows and flute-like musical instruments. Reed grasses tend to become invasive in the environment, but certain species and cultivars are fine to grow as ornamental plants as long as they are contained.
Feather Reed Grass
This clump-forming reed grass is so-named because of the feathery appearance of the flowering stems, which change color from pinkish in mid-summer to buff in fall. Hardy to U.S. Department of Agriculture plant hardiness zones 5 through 9, feather reed grass (Calamagrostis acutiflora) is best featured as an ornamental around ponds and in water gardens. Variations include "Karl Foerster" (Calamagrostis x acutiflora "Karl Foerster"), which makes a striking vertical backdrop in perennial borders in USDA zones 3 through 9, and "Overdam" (Calamagrostis x acutiflora "Overdam"), a smaller version with variegated green and white leaves.
Reed Canary Grass
Also known as ribbon grass and gardener's garters, reed canary grass (Phalaris arundinacea) is a highly adaptable species tolerant of a wide range of environmental conditions, most notably flooding and poor drainage. A popular ornamental in this group suitable for USDA zones 4 through 9 is "Feesey" (Phalaris arundinacea "Feesey"), which features stems that resemble bamboo. Although this plant can be controlled when planted in bog or underground containers, it should not be grown as groundcover or hedging because it readily naturalizes and can escape cultivation. According to the Midwest Invasive Plant Network, it is classified as an exotic invasive species and should not be planted in this region.
Paper Reed Grass
Paper reed (Cyperus papyrus)) is reputed to be the source of plant material used to make papyrus, a form of paper used in ancient Egypt. A member of the sedge family, this species looks more like a feather duster than a reed grass. Native to Africa and grown as a perennial in USDA zones 9 and 10, shade-loving paper reed produces clumps of grassy pom-poms atop long stems that can reach up to 8 feet in height. A dwarf variety called "Nanus" (Cyperus papyrus "Nanus") has the same characteristics but only reaches a maximum height of 3 feet.
Giant Reed
Giant reed (Arundo donax) is a tropical-looking perennial native to the Mediterranean that makes a dramatic impact in the landscape of USDA zones 6 through 10. As the name implies, this is the largest of reed grasses with a height potential of 20 feet. Broad leaves alternate on cane-like stems and purple flowers appear in the fall, although flowering may not occur in zones 6 or 7. Like other reeds, this species may become invasive unless limited by planting in aquatic or underground containers.