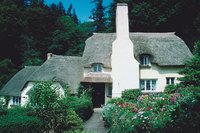 Rural Britain, where English cottage gardens began, is in the mild-Atlantic currents, giving it a gentle climate. Wisconsin's climate, on the other hand, resembles Sweden's climate, with warm summers and average mean minimum temperatures below zero on the Fahrenheit scale. Although having an English cottage garden is possible in Wisconsin, its inhabitants need to be hardy.
Origin
The decline in population caused by the series of medieval plagues in Europe left more open land and put a premium on labor, raising the status of the average serf to that of peasant or even freeholder. The English cottage garden reflected this hard-won independence. The first cottage gardens contained fruits, vegetables, herbs and plants with medicinal value as well as a few sweet-smelling flowers to fight the rancid odors of lanterns, coal fires and lack of sanitary facilities. In short, an English cottage garden packed a large and varied assortment of useful plants into a small yard.
Adaptation
Today's orderly borders and straight-rowed vegetable gardens bear no resemblance to old cottage gardens, but Wisconsin is dotted with kitchen gardens similar to medieval cottage gardens. They may include some greens and savories. A head of rhubarb (Rheum x hybridum), hardy from U.S. Department of Agriculture (USDA) plant hardiness zone 3 through 8, may grow next to the "Poorman" cultivar of gooseberries (Ribes "Poorman"), hardy in USDA zones 4 through 6, and French marigolds (Tageta patula), annuals grown from USDA zone 2 through 11. City dwellers plant their kitchen gardens in compact public garden plots. So even for a city-dwelling Wisconsinite, it's a short step from a kitchen garden to an English cottage garden.
Form
A cottage garden should provide the feeling of an outside room, even during Wisconsin's snowy winters. Structural hardscaping helps. An arbor makes a charming entrance. Gardeners who live along river valleys or in the Kettle Moraine area might build garden half-walls of stone. A stone or gravel walk, a garden bench and a trellis or garden wall add to the feeling of a room. Trees might include "Honeycrisp" apples (Malus domestica "Honeycrisp"), hardy in USDA zones 3 through 6, or "Montmorency" cherry (Prunus avium "Montmorency") hardy in USDA zones 4 through 8. Add red osier dogwood (Cornus sericea), hardy in USDA zones 2 through 7, for winter color and a conifer for winter birds.
Flowering Plants
The English cottage garden has evolved into a well-planned, compact collection of traditional flowering plants -- often passed down in families or shared by neighbors -- and a few herbs and heirloom vegetable plants. In Wisconsin, many of these plants grow from USDA zone 3 in the northwest through zone 5 along Lake Michigan in the east. Foxglove (Digitalis pupurea), hardy in USDA zones 4 through 9, and primroses (Primula x polyantha), hardy in zones 3 through 8, are traditional plants. Fill the garden's spaces with native flowering plants or annuals in muted colors to complete the appearance of rampant orderliness, using every inch of space.