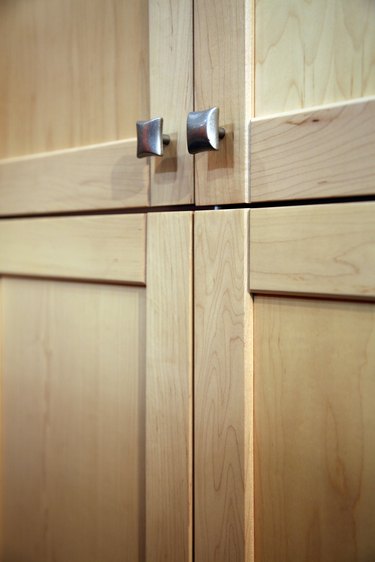 Shaker cabinet design is a throwback to a simpler time. It's been around for many years, and continues to remain attractive and functional. You can paint or stain shaker style and use ordinary hardware just like any other type of cabinet. You can build this type of design in your own shop using time-tested measurements for stiles and rails.
Definition
Shaker cabinets, sometimes referred to as an inset-panel design, consist of a wood framework around a flat panel. Shaker cabinets and doors also may have evenly spaced vertical lines routed or cut into the face of the panel. Shaker design invokes a country feel to a kitchen, but can be found in high-end homes as well as modest ranch-style dwellings -- or anywhere an affordable alternative to raised-panel cabinets are used. Shaker cabinets are affordable because the panels typically are lightweight plywood instead of solid hardwood. The stiles and rails that form the frame almost always are hardwood. The plywood and the hardwood typically are the same species.
Structure
The basic structure of shaker cabinets is no different than any other cabinet using hardwood face frames, which is almost always 3/4-inch thick. Typical vertical stiles for face frames are all 3 inches wide. Typical horizontal rails are 1/4-inch wide at the bottom of the face frame, with 2-inch-wide rails between drawers and door openings. The top horizontal rail is almost always 3 inches wide. Shaker design doesn't come into play on structural face frames, as a large percentage of the frame is covered by doors and drawer faces. The shaker design is emulated by frames around the cabinet end panels and doors.
Stiles
Stiles are the vertical pieces of the frame on both sides of shaker end panels and doors. There is no given rule for width or length on stiles, but there are industry standards that are relied on for balance and efficiency. Typical width for shaker stiles on panels, doors and drawer fronts usually is 2 1/4 inches. This is the same width used on standard door and window casing, as well as ordinary baseboard. It's acceptable to use almost any width over 1 1/2 inches for stiles, but thinner stiles defeat the purpose of shaker design and can make the door or end panel almost too light. Shaker stile length is determined by the length of the door or drawer front opening, and the outside dimensions of the cabinet end panel.
Rails
Rails are the horizontal pieces of the shaker frame. They should always be at least the same width as the stiles, but some cabinetmakers add 1/2 to 1 inch to the width for aesthetic reasons. Rail width is a matter of personal preference. To make the doors or end panels appear more substantial, make the rails 1 inch wider than the stiles. Some shaker doors and end panels have a curved top, this type of rail can be made up to 2 or 3 inches wider than the stile, if desired, to allow the stile to be cut into a sloping curve from side to side. The curved rail typically is only added at the top of the door or end panel, but it also can be added to the bottom if desired.
Thickness
Shaker rails and stiles almost always are 3/4-inch thick. To make simple shaker panels or doors, build a frame using 3/4-by-2 1/4-inch-wide stiles and rails. You can use corrugated nails to build the frame, dowels or toe-nail screws. Measure and cut a 1/4-inch plywood panel the same size as the frame. Pin-nail the plywood to the back of the frame using glue and clamps. When the glue is dry, sand the edges smooth. Some cabinetmakers cut a dado or channel on the inside edges of the stiles and rails before assembling the door, and insert the panel into the dado. This approach is more time consuming, but yields a door that's slightly more exclusive. Another option is to overlay 1/4-inch-thick stiles and rails onto a 3/4-inch panel to form the frame. This procedure can be done over existing slab-type doors or end panels, but doesn't offer the depth of the traditional 3/4-inch-thick frame.